The strap-on harnesses in this guide have received my recommendation based on their safety, quality of construction, comfort, and versatility. They can equip most dildos, comfortably fit most body shapes, and can be used for both pegging and girl-on-girl sex. These harnesses are forgiving toward beginners, but will stand up to anything experienced users throw at them. I've enjoyed them for many years and guarantee that you will too.
I also recommend that you read my How to Choose a Beginner Strap-on Harness Guide before making a purchase. Shopping with an informed opinion will help you find the perfect harness that meets all of your needs.
If you are looking for recommendations for a good beginner dildo, then please see my Best Beginner Dildos guide.
If you are looking for a strap-on that comfortably fits a male body, then please see my Best Male Strap-ons guide.
Jaguar Harness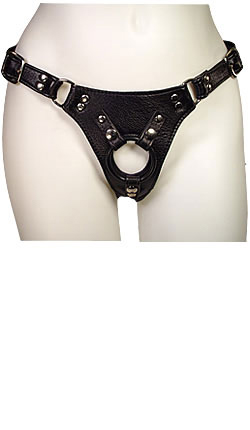 Made of soft, high-quality leather – Very sleek and sexy
Jockstrap style provides greater stability to the dildo
Interchangeable O-ring allows you to equip a wide variety of dildos
Buckles are easier to use than on most harnesses
Lifetime guarantee
Size Large fits up to 56" hips
The Double Up Dildo Cuffs accessory lets you attach a butt plug or dildo to the inside of the harness.
Why I recommend it: The Jaguar Harness is widely regarded as one of the sleekest and sexiest harnesses on the market. Its soft and shiny leather fits the body perfectly, making it the most comfortable leather product I've ever owned. You will look great and feel great while wearing the Jaguar.
While the biggest draw of this product is its sexiness, you will be amazed by how well it functions. The jockstrap style, good buckles, and leg straps that attach directly to the O-ring provide a very secure fit, and allow you great control over the dildo. This will make it easier to thrust hard and fast or perform an unusual sex position. The one downside to this harness is that it comes with only one O-ring, so be sure to add a pack of O-rings to your purchase if you want to equip a variety of dildos.
Overall, the quality construction, lifetime guarantee, and gorgeous aesthetics make the Jaguar Harness both an excellent beginner and "life" strap-on.
Terra Firma Harness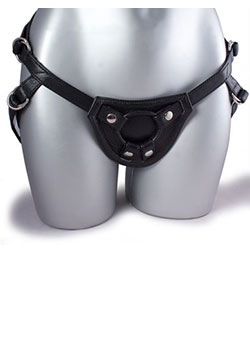 Best harness to use for equipping dildos with scrotums or unusual shapes
Extremely secure fit that provides lots of stability to the dildo
Jockstrap-style with leg and belt straps that attach directly to the O-ring
Includes a pack of three rubber O-rings
High-quality leather
Fits up to 50" hips
Why I recommend it: The Terra Firma Harness is a popular classic that is well-regarded for its very secure fit. The main selling point is that the waist and leg straps connect directly to the O-ring, which allows your harness and dildo to remain secure no matter how wild your movements. This unique strap system and the leather backing also make it the best harness available for equipping dildos with scrotums or unusual shapes. If you intend to have very vigorous and frenetic strap-on sex, then this is the best harness to use.
Check out the Terra Firma's cheaper version, the Malibu Terra Firma, if you want to save some money. The Malibu Terra Firma is made from nylon-faced Neoprene material, but is otherwise identical in construction to the Terra Firma.
Bend Over Beginner Kit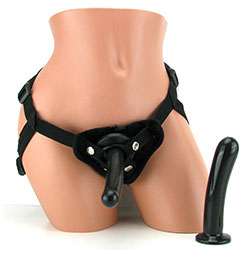 Includes harness made of velvet and nylon, two silicone Silk dildos, O-ring, and a bullet vibrator – everything you need to get started right away
Harness includes a pocket designed to hold a vibrator over the clitoris
Excellent bargain for the amount of equipment included in the kit
Fits up to 50" hips
The Bend Over Beginner Combo includes this kit plus the Bend Over Boyfriend DVD
Why I recommend it: The Bend Over Beginner Kit has everything you need to get started right away, and takes the stress out of figuring out what size dildos and O-rings to buy. The dildos included in this kit are from the Tantus Silk line, which made the top of my Best Beginner Dildos guide and are my personal favorite dildos to use for pegging. The harness itself is good quality nylon and velvet that is quite durable. Use the Bend Over Beginner Kit to get a feel for your harness and dildo preferences before upgrading to pricier options.
RodeoH Harness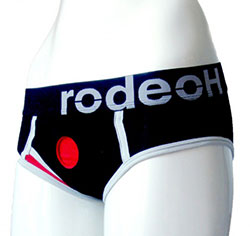 Wear it like underwear – no need to fuss with buckles or straps
Cotton material allows you to wear it discreetly under clothes
Machine washable
Fits up to 55" hips
Also available in boxer-style
Why I recommend it: The RodeoH Harness is a sturdy, comfortable harness for those who don't want to deal with straps and buckles; just slip it on like a pair of panties and you're good to go. The cotton material offers many benefits: It's extremely comfortable, easy to clean, requires no maintenance, and allows you to wear the harness very discreetly underneath your clothes. It's also inexpensive. Overall, the RodeoH is the easiest-to-use harness available.
Commando Harness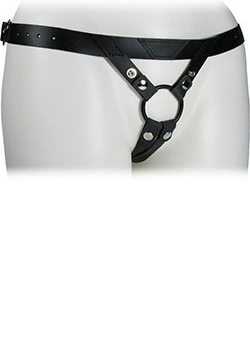 Extremely versatile: Wear it as a G-string or Jockstrap
Allows you to easily adjust the height at which you wear the dildo
Able to equip dildos with scrotums or unusual shapes
Can be comfortably worn on a female or male body – perfect for sharing!
High-quality leather
Fits up to 57" hips
Lifetime Guarantee
Why I recommend it: The extreme versatility of the Commando Harness is why I recommend it for both beginners and veterans alike. Being able to easily switch between the jockstrap and G-string style allows you to experiment and get a feel for what style of harness you prefer. You can also easily adjust the height and angle at which the dildo sits, and you can even equip dildos with unusual shapes and scrotums. Another great feature of the Commando is that it can easily be worn as a male strap-on, making this a great harness for heterosexual couples who like to share. The multitude of possibilities that the Commando offers makes this a great harness for users looking to experiment.