While most strap-on harnesses are designed for the female body, there are a few strap-ons that can be worn by men. Why would a man wear a strap-on? Beyond doing it for medical reasons, wearing a strap-on provides a lot sexual variety and unique opportunities. A male strap-on, for example, allows a man to perform double-penetration on a partner without the need of bringing in another male. It can help keep the fun going between erections. It can make roleplay a little more interesting through a variety of different sized and shaped dildos. It's also a fun tool to use in D/s situations. Be creative!
SpareParts Deuce Male Harness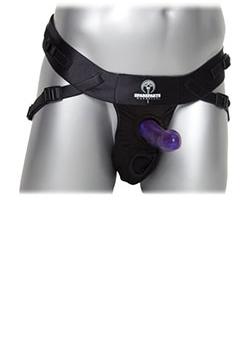 Specifically designed for the male body with a very similar look and feel to a jock strap
Highly-adjustable straps ensure a comfortable fit for all shapes and sizes
Top hole has a snug elastic O-ring capable of supporting most dildos
Bottom hole has a soft O-ring designed to hold the penis
Includes a soft pouch that holds the testicles (and penis, if not using bottom hole)
Nylon material
Why I recommend it: The SpareParts Deuce Male Harness is one of the most thoughtfully-designed harnesses I've ever encountered. The harness holes are expertly placed, providing perfect angles for double-penetation. The nylon material, highly-adjustable straps, and fabric pouch ensure a very comfortable and snug fit without chafing, pinching, or accidentally removing body hair. The creators of this harness also added a few pleasurable features for the male wearer: the leg straps cross over the perineum to provide light pressure and stimulation, the soft elastic hole designed for the penis also functions as a soft cock ring, and there's even a space above the dildo hole designed to hold a bullet vibrator. And if you don't want to fit your penis through the harness, it can comfortably rest in the soft pouch that holds testicles. A very pleasurable and versatile harness overall for both the male user and his partner.
Thigh Strap-on Harness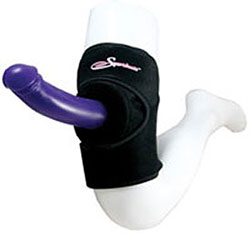 Easy to equip and remove
Waterproof Neoprene material
Machine-Washable
Why I recommend it: Although it's not strictly a toy for men, the Thigh Strap-on Harness offers many exciting possibilities. Use it for lap-dancing and grinding, or strap it on a chair arm or pillow for solo play. Beyond the creative possibilities the Thigh Harness offers, its Velcro straps provide a very secure and comfortable grip while it making it easy to quickly equip and remove. Overall, its a well-designed and creative toy to add to your repertoire.
Men's Dildo Harness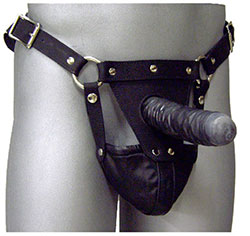 Specifically designed for men with a leather cup to hold the testicles and penis
High-quality leather with silver buckles, snaps, and O-ring
One hole only; cannot be used for double-penetration
Why I recommend it: This is the only leather male dildo harness on the market. The leather and construction are high-quality and provide a secure fit. Please note that this harness only has one hole, and is designed to hold a dildo while the penis and testicles rest inside the cup located below the dildo. If you intend to use a male-strap for double-penetration purposes, then skip this harness. Otherwise, it serves its purpose quite well.
Tantus Strapless (Feeldoe)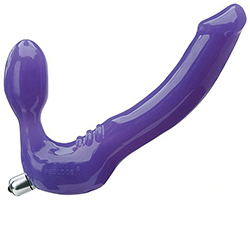 The bulbous plug provides prostate stimulation while thrusting.
A removable bullet vibrator is located in the center of the toy, so that both parties receive extra stimulation.
Available in four different sizes.
Made from high-quality, phthalate-free silicone.
Why I recommend it: It's not just a toy for women! The Tantus Strapless (previously known as the "Feeldoe") can fit into the anus to provide a stable grip on the toy as well as prostate stimulation. I must caution, however, that the plug may be a bit too big for beginners. Those less experienced in anal play should consider using the smaller Tantus Strapless Slim or sticking strictly to harnesses. Another point to consider: While most male strap-ons place the dildo above the penis, this order is reversed with the Tantus Strapless, so keep in mind how this may affect your routine. Overall, I recommend its use as a male strap-on for experienced users only .