You don't need leather to make a sexy and comfortable strap-on. These vegan strap-ons look great, feel great, and have high-quality construction. Several of the vegan strap-ons listed here are based off of bestselling leather strap-ons; they are identical in every way except for materials.
SpareParts Joque Harness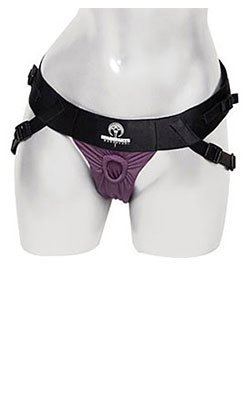 Accommodates up to 65" hips
Two pockets, located above and beneath the dildo, are designed to hold bullet vibrators
Made of breathable, lightweight nylon and spandex material that wicks moisture away from the body
Elastic O-ring holds up to 2" diameter dildos
Machine washable
Why I recommend it: The SpareParts Joque Harness is widely considered to be one of the most comfortable harnesses on the market. The fabric is lightweight and molds nicely to your body's shape. The inside contains soft mesh layers that wick away moisture and promote breathability. Many user reviews describe wearing this harness as "having a second skin", and I have to agree with this assessment. You can comfortably wear this harness all day underneath your clothes without chafing or becoming too sweaty.
Let's talk about the Joque's functionality. The permanent O-ring is made from elastic and can hold up to 2" diameter dildos. It performs just as well at keeping the dildo stable as your average rubber or steel O-ring. The belt is secured by Velcro, which provides a very solid fit and can easily accommodate any body shape. The well-designed vibrator pockets are a lovely perk, allowing for stimulation to all the right areas.
Overall, the Joque's very comfortable material and great design make this an excellent harness for users of all sizes.
RodeoH Harness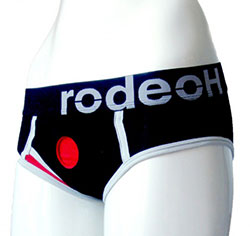 Wear it like underwear – no need to fuss with buckles or straps
Cotton material allows you to wear it discreetly under clothes
Machine washable
Fits up to 55" hips
Also available in boxer-style
Why I recommend it: The RodeoH Harness is a sturdy, comfortable harness for those who don't want to deal with straps and buckles; just slip it on like a pair of panties and you're good to go. The cotton material offers many benefits: It's extremely comfortable, easy to clean, requires no maintenance, and allows you to wear the harness very discreetly underneath your clothes. It's also inexpensive. Overall, the RodeoH is the easiest-to-use harness available.
Slick G Harness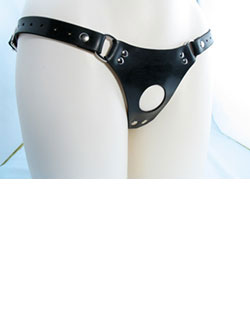 The Slick G is a one-strap harness
Made from sturdy rubber material with metal parts
100% waterproof; excellent for use in the shower, hot tubs, or pools
Non-interchangeable O-ring; ideal for double-ended dildos
Dildo placement sits lower than most harnesses to provide additional pressure on the clit
Lifetime guarantee
Why I recommend it: The Slick G Harness is made from a thick, very sturdy rubber material that can take a lot of punishment. This harness is particularly popular because the rubber material allows you to wear it underwater and in the shower. It's important to note, however, that this harness does not have an interchangeable O-ring, which means that some dildos will simply not fit into it. Dildos with testicles will definitely not fit, but dildos with a standard-flared base should be able to fit securely. Double-ended dildos also work really well with the Slick G. Although I'm a fan because of its extreme durability, I recommend it only for experienced users, as the O-ring issues may be troublesome for beginners.
Malibu Terra Firma Harness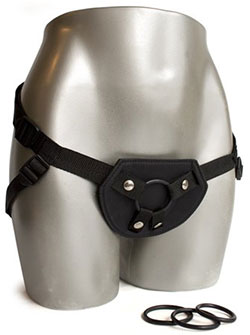 Made of nylon faced neoprene material with no metal parts
Identical to the classic Terra Firma Harness, but with vegan materials
Known for its extremely secure fit
Able to equip almost any dildo on the market
Hypoallergenic
Very beginner-friendly
Why I recommend it: The classic leather Terra Firma Harness made my Best Strap-ons for Beginners list for its quality construction and extremely secure fit. The Malibu Terra Firma harness offers the same benefits, but with vegan materials. The waist and legs straps connect directly to the O-ring, allowing the dildo to remain securely in position during wild movements and hard thrusting. Three O-rings are included with the Malibu Terra Firma harness, allowing you to equip most dildos on the market.