These sexy strap-ons are gorgeous, comfortable, and well-constructed. You will look great and feel great while wearing them.
Jaguar Harness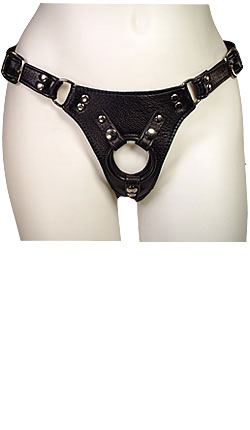 Made of soft, high-quality leather – Very sleek and sexy
Jockstrap style provides greater stability to the dildo
Interchangeable O-ring allows you to equip a wide variety of dildos
Buckles are easier to use than on most harnesses
Lifetime guarantee
Size Large fits up to 56" hips
Available in black, cherry red, and silver-colored leather
Why I recommend it: The Jaguar Harness is widely regarded as one of the sleekest and sexiest harnesses on the market. Its soft and shiny leather fits the body perfectly, making it the most comfortable leather product I've ever owned. You will look great and feel great while wearing the Jaguar.
While the biggest draw of this product is its sexiness, you will be amazed by how well it functions. The jockstrap style, good buckles, and leg straps that attach directly to the O-ring provide a very secure fit, and allow you great control over the dildo. This will make it easier to thrust hard and fast or perform an unusual sex position. The one downside to this harness is that it comes with only one O-ring, so be sure to add a pack of O-rings to your purchase if you want to equip a variety of dildos.
Overall, the quality construction, lifetime guarantee, and gorgeous aesthetics make the Jaguar Harness both an excellent beginner and "life" strap-on.
Minx Harness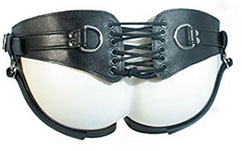 Same construction as the Jaguar Harness, but with a sexy corset-style back
Available in both black and red leather
Lifetime Guarantee
Why I recommend it: The Minx Harness has all of the benefits of the Jaguar Harness, but with the super-sexy corset back.
La Strap On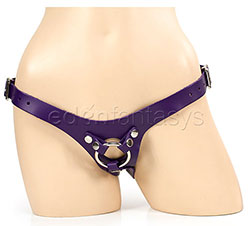 Available in purple, pink, red, and black leather.
Low-rise, so that dildo placement is lower than your average harness.
High-quality leather
Why I recommend it: If you're looking for a colorful harness with quality construction, then La Strap On is your best option.
Sasha Couture Harness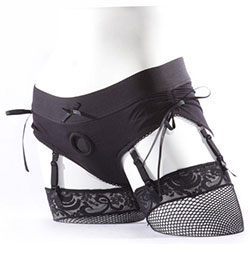 Adjustable ribbons on the side allow you to wear this as a high-cut panty or booty shorts
Made of breathable lightweight nylon and spandex material that wicks moisture away from the body
Wear it like underwear – no need to fuss with buckles or straps
Includes two pouches above and below the dildo designed to hold bullet vibrators.
Machine Washable
Available in cherry red.
Why I recommend it: The Sasha Couture Harness is sexy, versatile, and well-crafted. The adjustable ribbons and detachable garters allow you to easily adjust the harness to fit your own sexy style. The lightweight, moisture-wicking material is comfortable and allows you to wear this under your clothes for a naughty thrill. The O-ring is flexible, allowing you to equip most dildos on the market. The additional vibrator pockets are a nice bonus that provides extra stimulation to both you and your partner. A great balance between fashion and function.
La Butch Strap On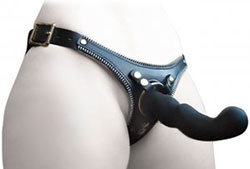 Zippered trim with silver hardware
High-quality leather
Heavier weight than most harnesses
Why I recommend it: The zippered trim and shiny silver hardware give the La Butch Strap On a very unique look. The extra metal, however, makes this harness weigh a bit more than most others on the market (whether this is a pro or a con is a matter of personal preference). The leather, metal, and construction are good quality.