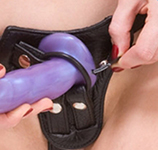 Please note that this beginner's guide is specifically about choosing a strap-on dildo for the purposes of pegging and anal penetration. Not every dildo that's available on the market is suitable for a strap-on or anal penetration, so you need to learn what features to look for before purchasing a dildo for this purpose. You don't want to end up with a hurt bottom or with a dildo that you can't equip!
I've included my recommendations for the best beginner dildos at the bottom of this page. If you want recommendations for a good beginner harness, then check out my Best Beginner Strap-ons Page.
How to Choose a Beginner Dildo for Pegging and Strap-ons
There are several factors that you need to consider while choosing a beginner strap-on dildo. Let's discuss them one-by-one:
Length: For anal penetration, a strap-on dildo needs to be at least 5.5 inches in length. Remember that the strap-on harness will be covering up part of the dildo. You need sufficient length to go through the harness and past the buttcheeks while still providing a pleasurable amount of penetration. In my experience, 5.5 – 6 inches is the perfect starting point.
Girth: For a strap-on, use a dildo with at least a 1.25 inch diameter. Anything smaller will either fall out of the harness, or will be too wobbly to thrust. A 1.5 inch diameter is a good starter length–not too big and not too small for the bottom, and it will definitely remain stable in the harness.
Material: Silicone is the best material to use because it has a perfect balance of being not too soft and not too hard. Look for dildos that are marked "phthalate-free." Phthalates are chemicals considered by the FDA to be a "probable human carcinogen" and have been linked to fertility problems. They are often used in cheap dildos, and should be avoided. Although I'm a huge fan of glass and metal dildos, I don't recommend them for beginner anal penetration. Many people find them too hard for vigorous anal penetration, which can cause pain and discomfort. Again, silicone is a very beginner-friendly material.
Base: The base of the dildo must be flared enough to provide a secure fit inside the strap-on harness. If the flare is too small, it will fall out or it won't be stable enough to thrust. If the flare is too big, then it won't fit into the harness at all. You'll need to read your harness specifications to figure out your upper and lower diameter limits, but generally, most dildos with 1.25 inches diameter and up will fit. Additionally, many harnesses have problems equipping dildos that have realistic testicles. The testicles tend to be either too big or too oddly-shaped to securely fit into the straps. Make sure your harness can equip this type of dildo before buying one!
Shape and Texture: Avoid dildos that have pronounced veins, seams, bumps, weird shapes, and large, bulbous heads. The reason why you may want to avoid these features as a beginner is because they can cause discomfort and pain to someone not experienced with receiving anal penetration. Bulbous heads in particular tend to cause a lot of complaints and discomfort. So for safety and practical reasons, it's best to start out with something smooth and not too oddly-shaped.
Taking the above advice into consideration, here are my top picks for beginner dildos:
Silk (Medium)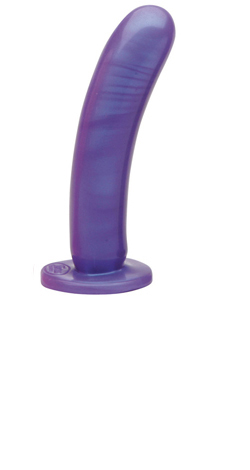 Extremely smooth surface with a head slightly wider than the shaft
Perfect size, shape, and angle for anal penetration
High-quality, phthalate-free silicone
Available in three sizes
Able to fit into all strap-on harnesses
Inexpensive
Why I recommend it: The Silk line of dildos is widely regarded as the best to use for pegging. The Medium Silk is, by far, the best beginner dildo to use because it has the perfect size, shape, and texture for experimenting with strap-on anal sex. It's not too small, but it's not too big or intimidating. Its slight curve and small head easily find the prostate and provide extra stimulation without being too girthy or difficult to insert. The Silk will fit on most strap-on harnesses thanks to its nice round, flared base. Best of all, it's cheap. You can easily find one for under $40, which is a very good deal for a high-quality dildo.
Please note that the Silk comes in three different sizes. The smallest size is too small to fit into a strap-on harness, but it makes an excellent handheld anal trainer. It's the best beginner dildo to use if you're experimenting with anal play, and working your way up to anal sex with either a genuine penis or a strap-on. Silk's largest size, 7.5 inches, might be a bit too long for beginners. At 5.5 inches, the medium size is the perfect length to get started.
Read my Silk Dildo Review for more pics and extended commentary.
Mustang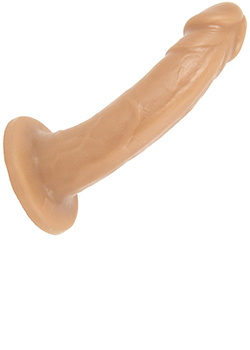 Patented VixSkin material provides a very realistic feel
Softer than most dildos, but hard enough for vigorous thrusting
Round, smooth base that will fit into any harness
High-quality, phthalate-free silicone
Lifetime Guarantee
Why I recommend it: If you're a beginner and looking for a realistic dildo, then the Mustang is your best bet. It's made from a special type of silicone called VixSkin, which is somewhat soft and feels very much like real skin. However, unlike most soft dildos and sex toys, VixSkin is non-porous and is not made from harmful chemicals like phthalates. Since it's non-porous material, bacteria and bodily fluids can't get trapped inside of it. It's also very easy to clean. In general, if you're looking for softer or more realistic toys, then I strongly recommend sticking to VixSkin material.
Aside from the VixSkin, what makes the Mustang a particularly good beginner dildo is its size and shape. The length and girth is just the right for a beginner with a head that is somewhat soft and easy to insert. Its round base will fit in nearly all harnesses. The textures on the dildo are mostly cosmetic, and can't really be felt during sex. A very high-quality product overall, and a great dildo to use in a harness.
Leisure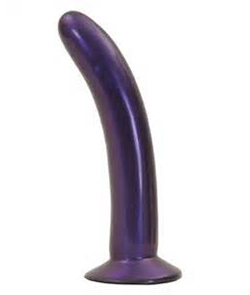 Vibrates (optional feature)

Long and thin pegging dildo

Extremely easy to insert anally

Able to fit into all strap-on harnesses

High-quality, phthalate-free silicone
Why I recommend it: For those looking for a long and thin pegging dildo, the Leisure is by far the best option. The size of the toy in general is just right for those who require a little extra length, but still want a beginner's girth. What makes the Leisure an excellent pegging dildo, however, is that it's specifically designed for anal use. Its pointed head makes insertion so easy that I declared it "the easiest dildo I've ever inserted anally" in my review of the toy. The dildo's angle hits the prostate perfectly, creating an intense sensation when combined with the vibrating feature. The Leisure is a great pegging dildo overall, but especially friendly for beginners.
Read my Leisure Review for more pics, extended commentary, and information about the vibrating feature.