These plus-size harnesses are specially designed to provide plus-size users with a comfortable and secure fit. All harnesses listed in this guide can accommodate 60 inch hips and up. You may also want to check out the Beginner Harnesses guide, which lists several harnesses that fit up to 55-57" hips.
SpareParts Joque Harness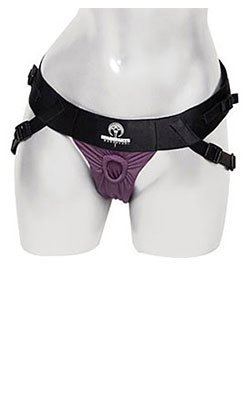 Accommodates up to 65" hips
Two pockets, located above and beneath the dildo, are designed to hold bullet vibrators
Made of breathable, lightweight nylon and spandex material that wicks moisture away from the body
Elastic O-ring holds up to 2" diameter dildos
Machine washable
Why I recommend it: The SpareParts Joque Harness is widely considered to be one of the most comfortable harnesses on the market. The fabric is lightweight and molds nicely to your body's shape. The inside contains soft mesh layers that wick away moisture and promote breathability. Many user reviews describe wearing this harness as "having a second skin", and I have to agree with this assessment. You can comfortably wear this harness all day underneath your clothes without chafing or becoming too sweaty.
Let's talk about the Joque's functionality. The permanent O-ring is made from elastic and can hold up to 2" diameter dildos. It performs just as well at keeping the dildo stable as your average rubber or steel O-ring. The belt is secured by Velcro, which provides a very solid fit and can easily accommodate any body shape. The well-designed vibrator pockets are a lovely perk, allowing for stimulation to all the right areas.
Overall, the Joque's very comfortable material and great design make this an excellent harness for users of all sizes.
Crown Harness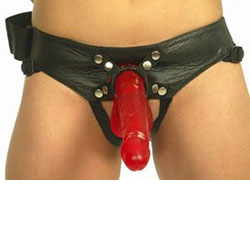 Accommodates up to 60" hips
Specifically designed for plus-size users
Dildo placement rides higher than most harnesses to provide plus-size users with greater stability
High-quality Leather
Why I recommend it: The main selling point of the Crown Harness is that it was specifically designed with a plus-size user's needs in mind. The biggest difference between the Crown and other harnesses is its high dildo placement where the dildo rests more on the belly than the pubic area. The benefit of this high positioning is that it provides greater dildo stability and allows easier access to the user's genitals. This unique dildo placement also makes the Crown well-suited for use as a male strap-on. It can be comfortably strapped on to a male body above the penis while allowing easy access to the genitals.
Divine Diva Plus-Size Strap-On Harness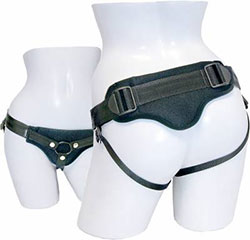 Accommodates up to 82" waist, 44" leg strap
Largest strap-on available on the market
Padded back for extra support
Specifically designed for plus-size users
Vegan, nylon material
Why I recommend it: The Divine Diva Plus-Size Harness is largest strap-on harness currently available on the market.