Despite being into this lifestyle for quite some time and having a closet full of our favorite toys, my partner and I are always willing to try something new. So when the Tantus Leisure Vibrating Dildo was recommended to me by a fellow expert as being excellent for pegging, my interest was piqued. Once I finally got my hands on one and ran it through its paces, I found it to be an amazing toy for beginners, but possessing qualities that will please even the most seasoned veterans. Want to know the specifics? Read on!
About the Tantus Leisure Vibrator
The Leisure's signature feature is its hollowed out middle designed to hold a bullet vibrator. Conveniently, one comes bundled in, and even includes batteries, so no rooting around in drawers or rushing to the store before you can try out your new toy. The bullet vibrator is simply designed, with a push button at the bottom to turn it on and off. It fits into the hollowed out middle of the dildo, which has numerous silicone nubs designed to hold it in place. These do their job, if a little too well, as the vibrator is very difficult to remove once in. The standard advice here is to lube up both the vibrator and hollow middle before insertion. This advice, however, did not work for me. After some brainstorming, I went to my toolbox and grabbed a pair of needle-nose pliers. That got the job done, but bear in mind that you won't be able to remove the bullet vibrator after use without a bit of elbow grease.
You may be wondering: "If I can't easily remove the vibrator, how do I safely wash the Leisure without damaging it?" Well, I was able to run it under a faucet several times without damaging the vibrator, even when water got into the hollow insert that holds it. Make absolutely sure that you remove the vibrator first before placing it in a dishwasher or pot of boiling water, though, as it probably won't survive the heat.
Pegging and Anal Experience: The Easiest Dildo I've Ever Inserted Anally
The Leisure's pointed head and smaller diameter make this the easiest dildo that I've ever inserted anally. All it took was a generous amount of lube on the shaft, and it slid right in to both myself and my partner with only minimal warm-up. Its non-bulbous head and smooth-as-silk texture allowed me to work up to hard and vigorous thrusting very quickly with no resistance or uncomfortable "vacuum" effect. Despite being very flexible and hollow in the middle, the Leisure held up well during the most intense sessions, with no accidental flopping or falling out.
While the Leisure's girth is a little smaller than what my partner and I are used to, the vibrations more than made up for it. The bundled bullet vibrator is strong enough to provide a stimulating sensation that you can feel right to your core. I found the vibrations to be a pleasant tease that left me wanting more, and my partner really enjoyed the vibration against his prostate as an accompaniment to the hard thrusting. The strength of the vibrator was "just right" according to him, and didn't feel too numbing or distracting. He does caution that using it solo might not be enough for him, but that it does produce a powerful orgasm when combined with some hard thrusting from a partner.
Overall, we were both impressed at how well the Leisure performed while strapped into a harness. My initial concern was that the hard thrusting would accidentally turn the vibrator's push top switch off, but we never once had this problem during any of our tests. Turning it on and off through the leather backing of my harness was quite easy as well, requiring only some extended pressure from my thumb applied to the back of the harness. No need to strap the Leisure on and off to activate the vibrator, as I had initially feared.
Vaginal Experience: Good for a Tease
After our excellent experiences with pegging and anal play, I figured I'd see what kind of job it could do vaginally. A few test sessions later, and I must say, the overall experience was lackluster. To put it simply, the Leisure lacked the girth and vibration strength to really get the job done. I did, however, find it to be a fun and convenient toy for warming up. Insertion required no preparation aside from a few drops of lube, and the vibration was pleasant in that teasing sort of way. The Leisure's silicone material and smaller head were light enough to pleasantly stimulate my sensitive G-spot without pain or discomfort, which is rare among the many other dildos I've tried. Ultimately though, I had to switch to a bigger dildo and stronger vibrator to orgasm. While I still think the Leisure makes a good vaginal warm-up toy, it's better suited for anal stimulation.
Final Thoughts About the Tantus Leisure
My partner and I both agree that the Leisure is a fun pegging dildo that will see regular rotation in our toybox. The vibrating feature provides enough stimulation and novelty that we're willing to overlook the lesser girth and difficult-to-remove vibrator. We especially recommend this to anal play beginners, as the smaller size and pointed head make this a very friendly dildo to use. Anal play veterans will appreciate the perfect-strength vibrations as something different to add to their routine.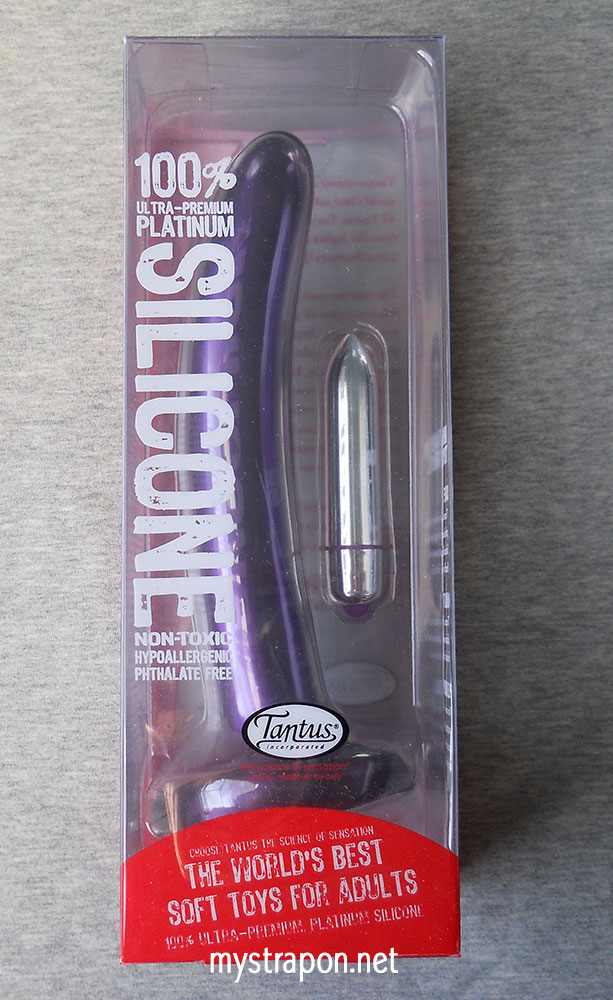 Disclaimer:  I received a Leisure Vibrating Dildo from Tantus in exchange for an honest review. My words, opinions, and experiences about this product are 100 percent my own.