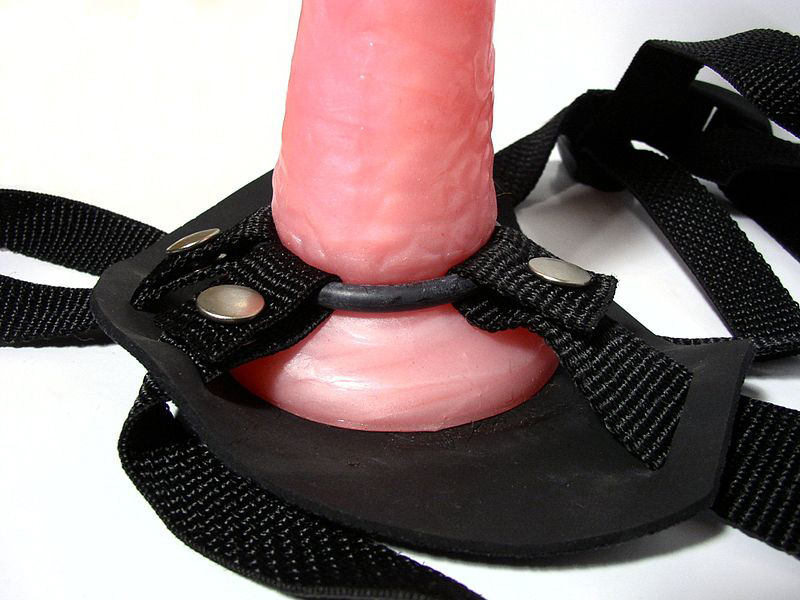 Below is an extensive guide on what factors to consider when choosing a beginner strap-on harness. Quality equipment is essential to successful strap-on sex and pegging, so it's important that you invest in a harness that is comfortable, secure, and capable of meeting all of your sexual needs. This guide will help you make an informed decision when you are ready to purchase your strap-on.
A strap-on is comprised of three main parts: the harness, the dildo, and the O-ring that secures the dildo in the harness. This guide will focus on the harness and O-ring. Advice regarding dildos is listed in a separate guide.
If you're looking for specific product recommendations for a beginner harness, then please visit my Best Strap-ons for Beginners Page.
If you're looking for advice and product recommendations for a beginner dildo, then please visit my Best Beginner Dildos Page.
Strap-on Harness Styles:  G-string vs. Jockstrap
The biggest decision you'll have to make when choosing a strap-on harness is whether to a choose a G-string or jockstrap style. Here's an explanation of each style and their advantages: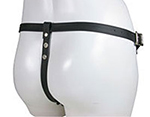 G-string: A G-string harness is worn similar to g-string underwear where the harness is secured by a single strap that is placed between the legs and up the middle of the buttcheeks. The placement of the strap covers the genitals, which has it's advantages and disadvantages. Some people find the sensation of the strap rubbing against their genitals to be very stimulating. Other people prefer to keep the genital area accessible for their partner or for themselves, and are better served with a jockstrap harness.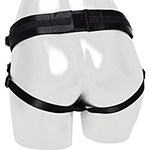 Jockstrap: A jockstrap harness is worn similar to a jock strap where the harness is secured by two straps that fit around the legs. The main advantage that the jockstrap style has over the g-string is that you can easily adjust the straps to provide a comfortable and secure fit that is unique to your body. The better fit and the additional support from the legs give the dildo more stability, which is especially useful if you intend to use your strap-on for very vigorous thrusting or in unusual sex positions. Jockstrap style also allows open access to the wearer's genitals.
I recommend the jockstrap style to beginners. The additional dildo support it provides over a g-string cannot be overstated. Strap-on sex already has a bit of a learning curve, so any extra advantage you have in controlling your dildo will go a long way toward making your sex sessions smoother. The additional stability is also very nice to have for when you want to use it for rough sex; it's hard to maintain momentum when the dildo keeps falling out!
Strap-on Harness O-rings Explained
The next big decision you'll face is over O-rings. The purpose of the O-ring is to hold the dildo in the harness. The dildo fits through the ring, and the ring is then secured to the harness. Most harnesses offer an interchangeable O-ring while others have the ring sewn directly into the harness. Let's take a closer look at the advantages of each: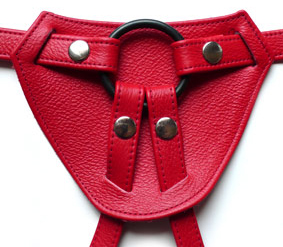 Interchangeable O-ring: Most harnesses have an interchangeable O-ring, which means the O-ring is connected to the harness via a system of snaps. This style allows you to swap in different sized O-rings, which in turn allows you to equip a wide variety of dildo sizes. You will need to make sure, however, that you own a corresponding O-ring for each dildo you want to equip. Harnesses of this type are typically sold with only one O-ring, so will you likely have to buy your own separate set of O-rings if you intend to use different sized dildos.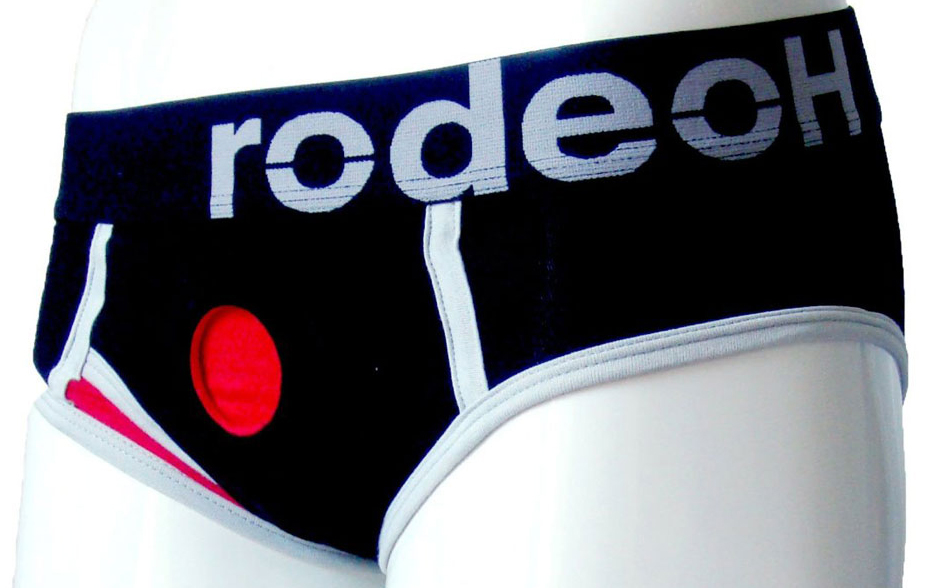 Permanent O-ring: This type has the O-ring sewn directly into the harness. Since the O-ring cannot be removed, you will always be limited to using dildos that are capable of fitting through the permanent ring. However, the O-rings used in these harnesses are often very stretchy elastic or rubber, and are capable of equipping most dildos 1.75 inches diameter and under. The only times you'll ever really run into problems is if you're using a giant dildo or a very small dildo. Otherwise, these harnesses offer the distinct advantage of not forcing you to keep an entire set of O-rings nearby whenever you're ready to use the harness. It's certainly the more convenient option of the two.
Note: It is important that you use an O-ring that fits your dildo properly. An O-ring that fits too tight will damage the dildo and may cause it to break. An O-ring that is too loose will not provide enough stability to the dildo, which will make thrusting difficult.
Other Factors to Look for in a Strap-on
Here are a few other important factors that you need to consider while choosing a beginner strap-on harness. Let's discuss them one-by-one:
Harness Size: Make sure that your prospective harness is capable of fitting you comfortably and securely. A harness that is too tight will cause chafing and discomfort. A harness that is too loose will not provide enough stability over the dildo, which will make thrusting difficult. Measure your waist and thighs and compare them with the measurements listed in the product description before making your purchase.
Backing: Do you want a piece of fabric or leather separating the dildo base from the harness wearer's skin? The main advantage of backing is that it prevents the dildo from chafing and pulling on body hair. The main disadvantage of backing is that it prevents you from using double-dildos or securing a strapless strap-on. Overall, this decision depends on your body type and how you intend to use your strap-on.
Material: Leather, Neoprene, Vinyl, or Nylon? Again, they each offer their own distinct advantages. Leather harnesses require more maintenance than other materials, but they are extremely comfortable once they break in and mold to your body's shape. They also last forever when properly cared for. The other materials are also quite durable, can be used in water, and offer the very convenient advantage of being machine-washable. Generally, the type of material used does not affect the strap-on's functionality and is a rather low priority compared to the above factors.
Capable of Equipping Realistic Dildos: Many harnesses have a problem properly securing dildos that have a realistic scrotum due to their shape and size. If you intend to equip this kind of dildo, then you need to be extremely cautious when making a harness purchase. Harnesses with interchangeable O-rings tend to be friendlier toward these types of dildos, but it's not a guarantee that they'll fit or provide stability while thrusting. Padded backing is also a bonus since the extra surface area from the dildo's scrotum can cause more chafing and hair pulling than normal. I recommend the Terra Firma Harness for users who want to equip realistic dildos.
Buying a Beginner Strap-on
Whew! That's a lot of information to digest, isn't it? Yes, trying to find the right strap-on can be a daunting task, which is why I've created a quick and very easy-to-read product guide to the best beginner strap-ons. These are harnesses that I've tried out myself, and have received my recommendation based on them being safe, comfortable, and well-constructed. All of them can be used for both pegging and girl-on-girl sex. I hope you enjoy them as much as I do.