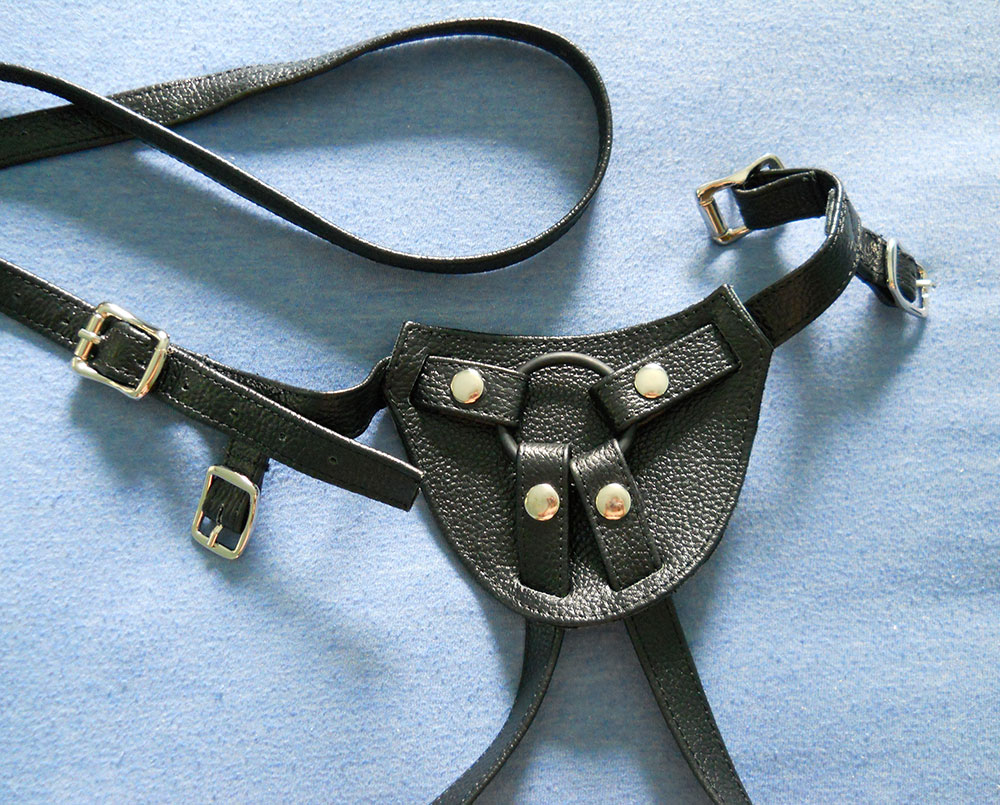 The Terra Firma is my "old reliable." It's the harness I wear when I want to give someone a rough fucking. It's the first out of the toybox when I want to try a new position or dildo. I keep coming back to it no matter what new harnesses come my way. Without a doubt it's the gold standard by which I measure all other harnesses. If I had to choose one harness to use for the rest of my life, the Terra Firma would be it. Yes, it's that good.
The Terra Firma has been my top recommendation throughout most of my ten-plus years of strap-on experience, but until now I've never taken the time to explain in detail why it's the best harness for beginners and veterans alike. So let's take a closer look at my all-time favorite harness–you won't be disappointed!
Terra Firma vs. Terra Firma Dee
While shopping for the Terra Firma, you may come across a different harness called the Terra Firma Dee (also sold under the name "Terra Firma D"). Both harnesses are made by the same company, Stormy Leather (a subsidiary of The Stockroom), and are essentially the same in performance, size, and quality. The difference between the two is that the Terra Firma Dee is fastened via D-ring belts instead of the belt holes and buckles used by the original Terra Firma.
Which version should you buy? It's entirely a matter of whether you prefer D-rings or belt buckles. The D-rings offer the benefit of giving you a true custom fit, but the Terra Firma provides so many belt holes that finding a secure and comfortable fit won't be a problem for the vast majority of people using it.
No matter which way you fasten it, the harness will perform well and look great. Everything I've written in this review applies equally to both harnesses.
Terra Firma Harness Performance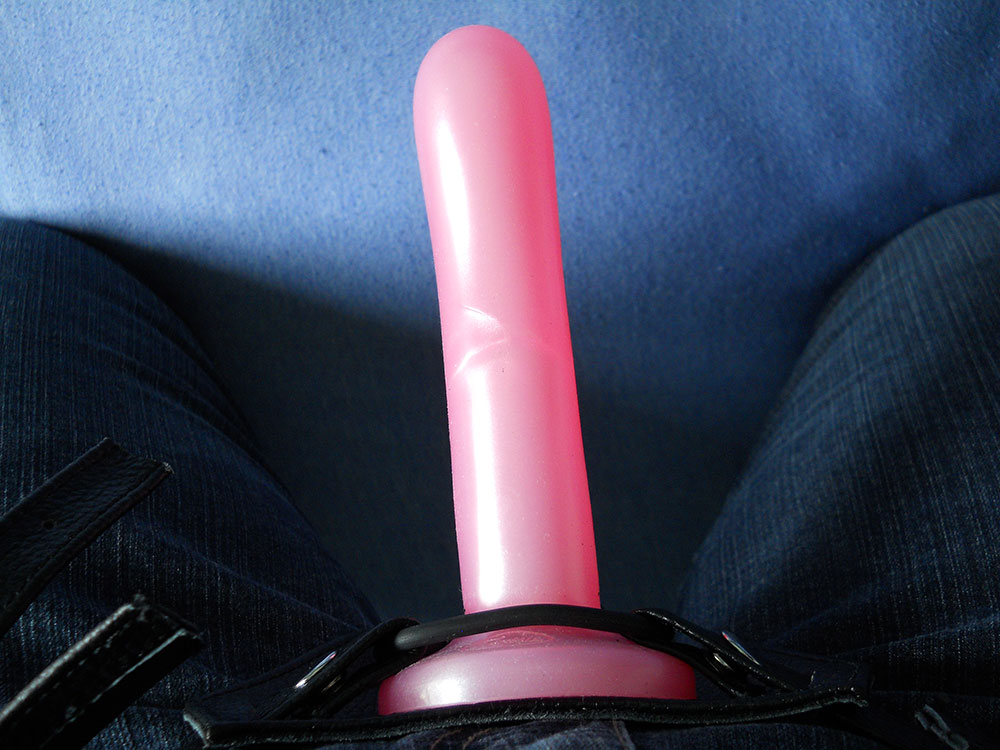 The Terra Firma is the most versatile, best performing harness I own. This is all due to its excellent design where the O-ring is held in place by both the belt and leg straps, giving you an incredible amount of dildo stability. As long as the harness has a secure fit around your body, the O-ring and dildo won't budge no matter how wildly you move. This is why the Terra Firma is my go-to harness if I want to try a new position or some hard thrusting; I can always trust the dildo to remain stable no matter what I do. No dildo slipping, flopping, or falling out here. If dildo stability is a high priority for you, then the Terra Firma is a must.
Another major benefit to the Terra Firma's design is that it allows you equip virtually any dildo you want. Since the O-ring is interchangeable, there are no restrictions on dildo sizes or shapes. Want to use a dildo with a large balls or an unusual shape? Want to equip a giant dildo? The Terra Firma can accommodate you. Want to use a double dildo or secure a strapless strap-on? Simply remove the leather backing and wear the straps and O-ring only. You will not find a more versatile harness.
Although the Terra Firma's functionality is highly-dependent upon a secure fit around the body, you shouldn't mistake "secure" for "tight". The Terra Firma has long belt straps and a large number of belt holes to ensure that a wide variety of body shapes and sizes can wear it comfortably without sacrificing performance. You don't need to wear it at a gut-busting size in order to get the dildo stability you desire; a comfortable fit is more than enough to keep the dildo secure. Once fastened, you can trust the harness to stay in place; no slipping or stopping to readjust here. Yet another reason why the Terra Firma is a great choice for rough fucking.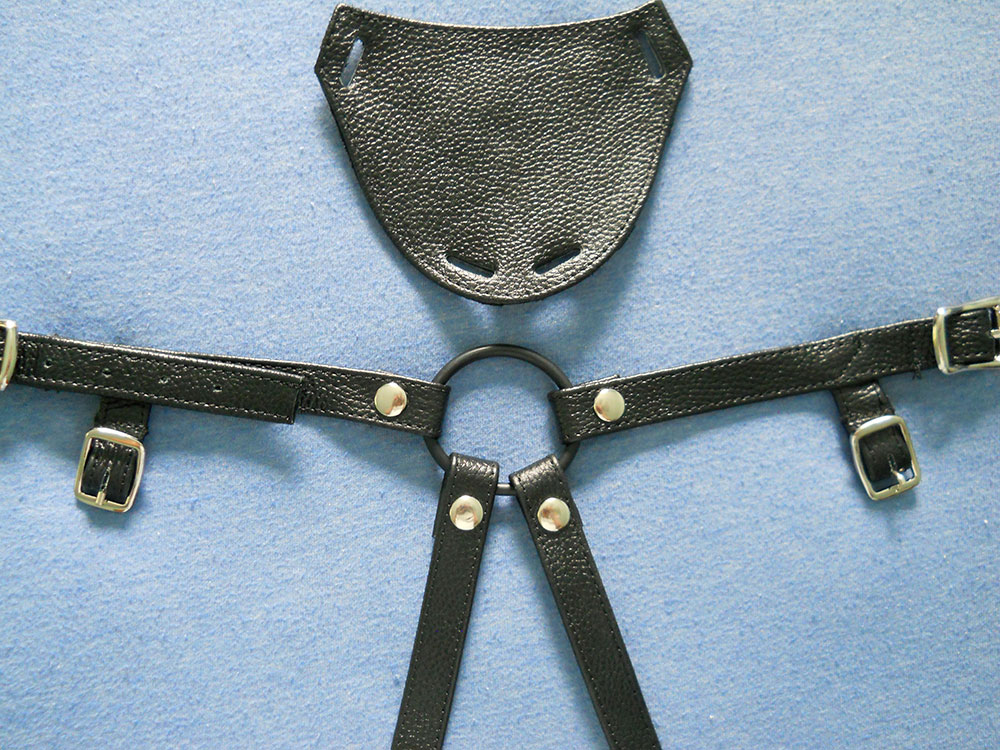 A Harness with Attitude
Anyone who sees you wearing the Terra Firma will know that you're a mistress who means business. This harness has attitude. This is not a discreet harness to wear underneath your clothes all day. This is not a harness that looks cheap, flimsy, or purely utilitarian. No, the Terra Firma is as much a piece of sexy lingerie as it as a high-performing harness. Being a great mistress is as much about the attitude as it is technique, and the Terra Firma will help you complete the transformation. You will feel powerful while wearing it.
You'll also look amazing in it, too. The Terra Firma is simply a gorgeous harness, and pictures don't do the harness justice. Rest assured, though, that you're not sacrificing comfort for style, as the Terra Firma is indeed quite a comfortable harness. The leather is soft and its edges are smooth, so no need to worry about painful chafing or digging into the skin. The harness does have a surprising amount of weight, and while it's certainly not heavy or burdensome, it's enough to remind you that it's always there. Again, this is not a "packing harness" or one that is particularly suited for all-day use (the Joque Harness is the reigning champion in that department).
A Sensual Leather Experience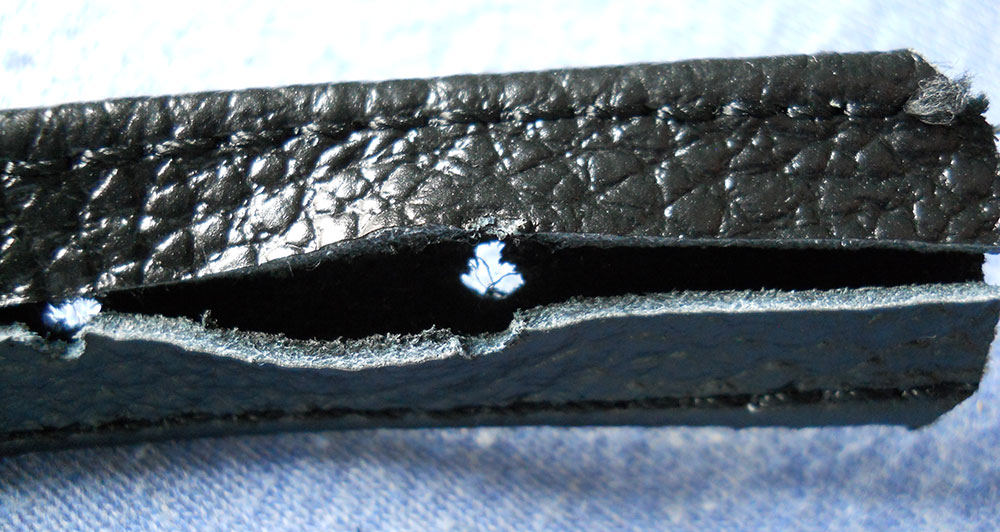 If you have a leather fetish, then the Terra Firma is the harness for you. No other leather harness I've used matches the sensual experience that the Terra Firma provides. From its smell to its texture, the harness itself is an aphrodisiac. It starts as soon as you take it out of the package and get a whiff of its leathery smell. The odor isn't overpowering; it's just the amount you'd expect from a quality leather product. The leather simply feels high-quality. The texture, thickness, and weight all feels earthy and natural. Upon a close inspection of the ends of the leather straps, you can see that the leather has been dyed all the way through—a sign of quality tanning—and you can even feel the rough suede in the middle.
Overall, the whole harness feels "primal." I realize that is an odd way to describe a sex toy, but the minimally processed leather feels much more intimate compared to the perfectly buffed, polished, and odorless leather used in other harnesses. I simply feel more sexually powerful in a wild, visceral way while wearing the Terra Firma. I have not experienced this with other harnesses.
Terra Firma Harness Preparation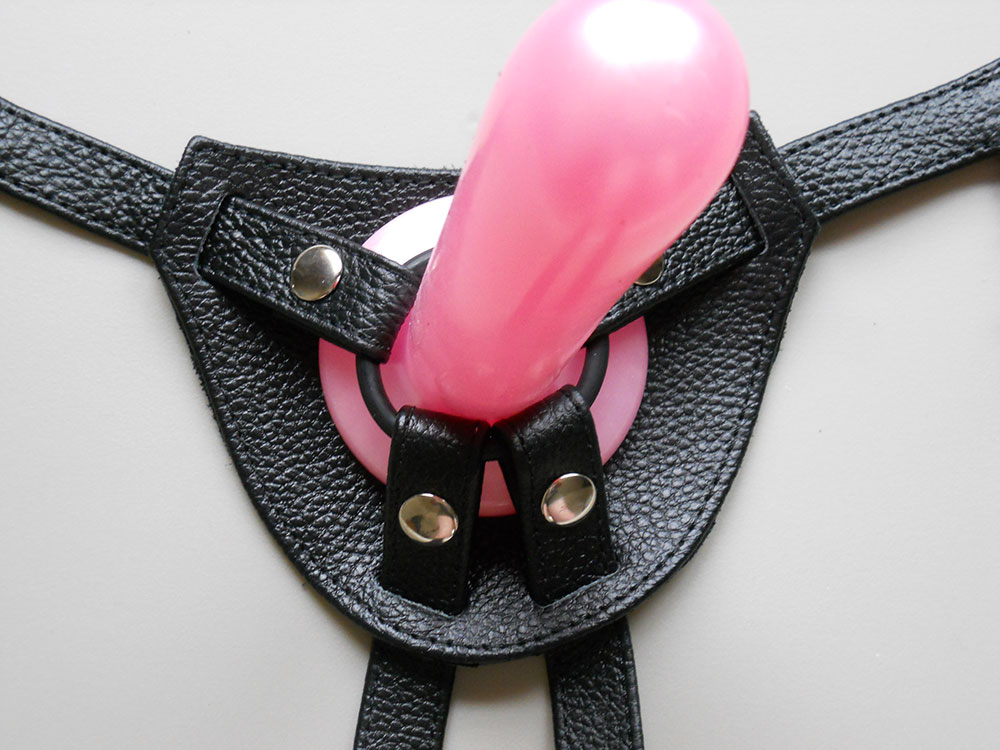 When you first get the Terra Firma, I strongly recommend trying it on and getting acquainted with it before putting it to use. Figure out what belt holes you'll need ahead of time, memorize them, and practice putting the harness on. Trust me, this will save you time and embarrassment if you're ever in a situation where you need it quickly for some impromptu strap-on sex.
The one downside to the Terra Firma is that it's not the world's most convenient harness to wear, and this is largely due to its belt holes. They are tiny, there are many of them, and the rough suede interior creates some resistance when fastening the buckle. Now these aren't really issues for me anymore after years of use and breaking in the leather. I know exactly what holes I need and any resistance has long since been worn away–I can strap the Terra Firma on in a rush if I need to. Like a new pair of shoes, however, a brand new harness requires some breaking in before it reaches its maximum comfort and convenience level.
One more thing to expect from the Terra Firma: the straps are quite long and may require some trimming. The harness is designed with long straps and many belt holes to allow a wide variety of sizes and body shapes to wear it comfortably. The problem is that the straps can hang down quite far from the buckle, especially if you have a petite body. Some people like the way the long straps look and others find it too distracting. If you're in the latter category, simply cut the excess strap down to your desired length. Trimming is not difficult, and the already rough cut of the belt makes me believe that it was always intended to be trimmed down after fitting.
Final Thoughts on the Terra Firma Harness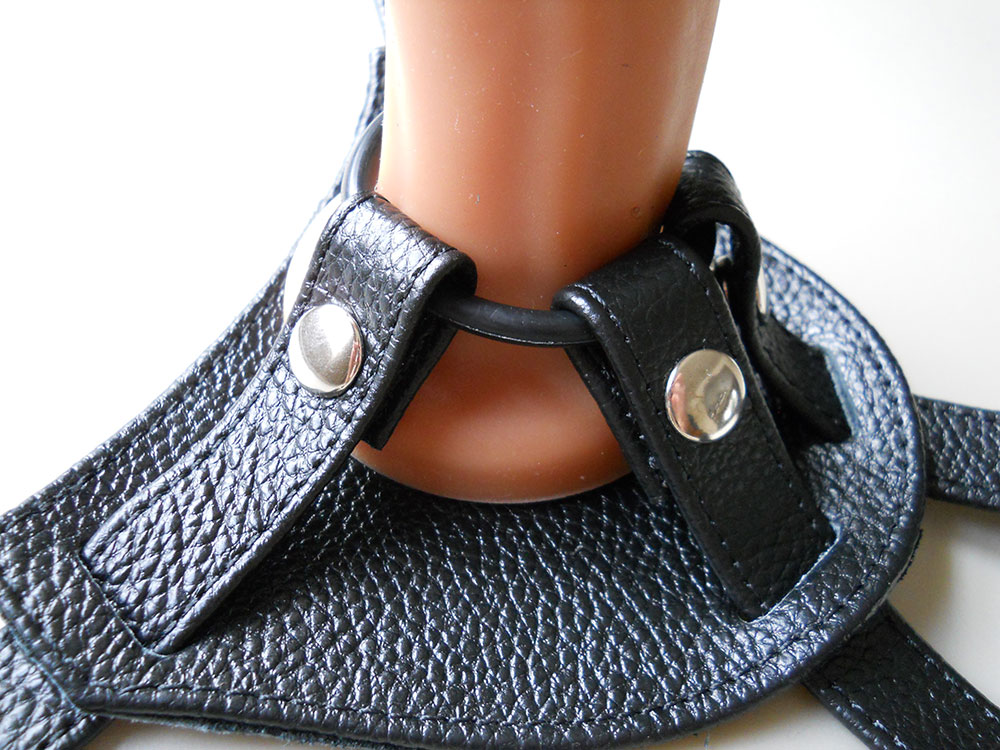 The Terra Firma has it all—it's trustworthy, versatile, gorgeous, and it performs well. This is why it's my all-time favorite harness and the one I find myself recommending the most often to beginners and veterans alike. No matter what your experience level or your strap-on needs, the Terra Firma will serve you well.
Available at The Stockroom.