Although cleaning a leather harness is a rather simple process, the most important part is choosing the right kind of leather cleaning product. The right cleaning product can extend the life of your harness and keep it soft and beautiful for many years while the wrong product will damage and dry it out. This is one of those instances where it's definitely worth paying a little extra for a good product. So let's take a look at your leather cleaning options: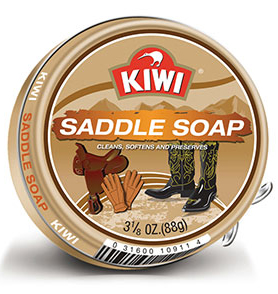 Saddle soap. This is specially-formulated for leather cleaning and does not contain the harmful alkali that conventional cleaning products like dish soap have. Saddle soap is better for long-term use. Kiwi Saddle Soap is a popular brand that can be found at Walmart, drug stores, and shoe stores.
Glycerine saddle soap. This performs like saddle soap but has the added bonus of moisturizing your leather while cleaning it. This will keep your harness nice and conditioned. This is my personal preference for harness cleaning. I highly recommend Fiebing's Liquid Glycerine Saddle Soap.
Harley-Davidson Leather Care Wipes. These wipes are excellent for when you're traveling, and they're really nice for cleaning up after a BDSM party. However, for long-term use at home, I'd stick with saddle soap or glycerine saddle soap. You can buy these wipes at Harley-Davidson dealers.
Dish soap can be used in a pinch to clean your leather harness. Although it will get the job done, I don't recommend using it unless it's an emergency and you don't have access to specially-formulated leather cleaner. The reason why is because it can wash away the oils that protect the leather. Occasional use won't harm your harness, but it's not a product you want to use long-term.
How to Clean Your Leather Harness — A Step-by-Step Guide
Materials needed:
Soap (see above)
Soft, non-abrasive damp cloth
Soft, non-abrasive dry towel
Add a dash of soap to a section of the harness. Remove the soap immediately by wiping away with a damp cloth. Do not submerge the harness in water as this will damage it. Try to use as little water as possible.
When finished, pat dry your harness immediately with a soft, dry towel. Be sure to remove all moisture from the folds and creases in the leather. Try to remove as much moisture as possible.
Store your strap-on in place that is cool, dark, and dry. Keep your harness away from direct heat, direct light, and plastic bags.
Condition your leather harness occasionally to extend its life and keep it look beautiful. Check out our step-by-step leather conditioning guide to learn how to do this.
Tip: Immediately after use, give your a harness a quick wipe-down with a damp cloth to remove sweat and other bodily liquids. This will help extend the life of your harness.