Since your harness will spend most or all of its life indoors, you won't need to condition it too often. Once every six months on average or slightly more often if you use it frequently. If you use glycerine soap to clean your harness, you may not ever have a need to condition again.
Choosing a leather conditioning product is just as important as choosing a leather cleaning product. Again, it's worth investing in a quality product that will keep your harness in great condition. The wrong product can stain and damage your leather. I recommend staying away from conditioners that use synthetic material or mink oil (mink oil can go rancid and may have origins involving animal cruelty).
Here are my personal recommendations for leather conditioning products: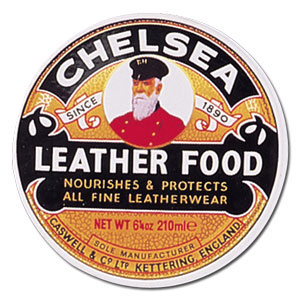 Chelsea Leather Food: This conditioner has been used in Europe for over a hundred years, and is made from beeswax and natural oils. An excellent water and sweat repellent. The "Black" variety is great for filling in chips and cracks in black leather.
Fiebing's Aussie: This conditioner is made from beeswax, and helps condition, waterproof, and repel sweat. Despite the name, this product is made in the USA.
Important note: Always test your leather conditioner before you use it! Some leather conditioners will darken white or lighter-colored leather. You can test the conditioner by dabbing a small amount of conditioner on an inconspicuous part of the harness and allowing the conditioner to soak in overnight. Check the results before proceeding any further.
How to Condition Your Leather Harness — A Step-by-Step Guide
Materials Needed:
Leather conditioner of choice (see above)
2 – Soft, non-abrasive dry cloths
Clean your leather harness. Dry completely.
Using a clean, dry cloth, apply a light coat of leather conditioning product over the harness. Let the conditioner soak into the leather overnight.
Wipe off the excess conditioner using a clean, dry cloth.