Goodbye rubber O-rings! After giving the new Tantus Silicone O-ring Set a thorough try, I simply can't go back to rubber. Silicone offers the same performance as rubber with a lot more convenience, and the extra elasticity makes strapping a dildo into my harness much quicker and easier. Even better is that having such a wide variety of O-ring sizes at my disposal means I'll never have to buy another O-ring set again.
That's the concise review. If you want the extended commentary or perhaps a little more information to help you decide whether making the upgrade to silicone is worth it, then read on.
Holy Stretchiness, Batman!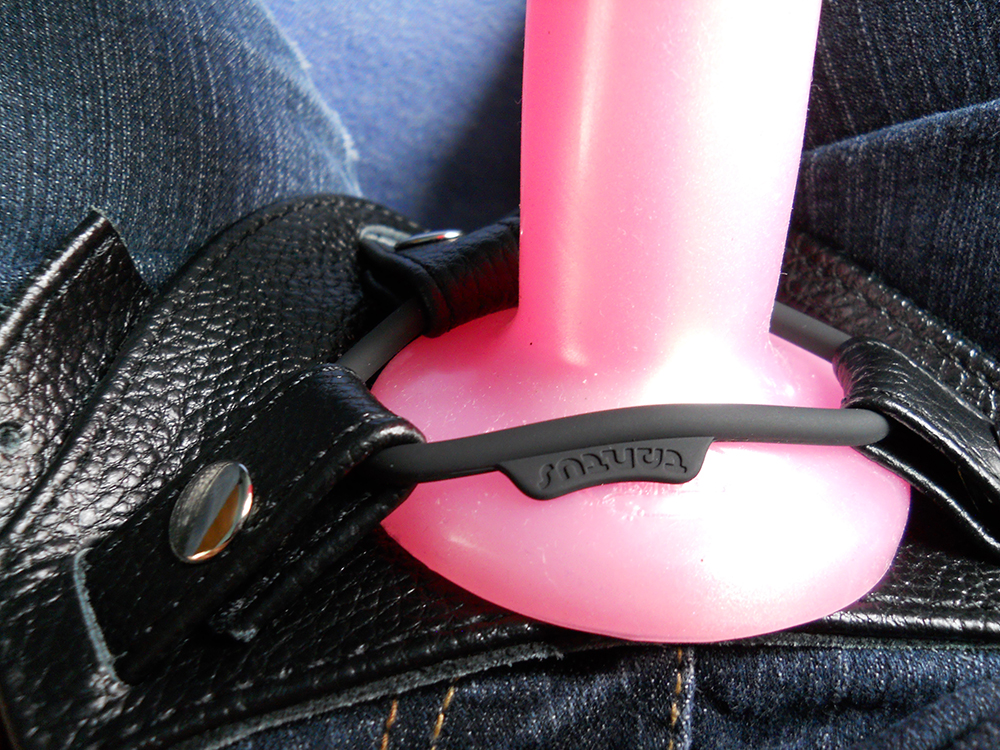 Anyone who has experience using an O-ring to strap a dildo on to a harness can probably relate to the following problem. You've got your O-ring around the dildo, and now you're trying to thread the straps through that small space between the dildo and the ring. Threading the first strap or two is easy, but by the time you get to the last strap, the O-ring is already fairly secure and not offering enough slack for you to comfortably thread that last strap in there. The only way to get that last strap around the now taut O-ring is through delicate and slightly painful work from your fingertips. Trying to fumble through this process in a hurry with lubed up fingers becomes an exercise in frustration that I imagine is equivalent to how teenage boys must feel when they first encounter a bra strap.
Thankfully, the new Tantus Silicone O-ring Set has made this problem obsolete. The silicone material has far more elasticity than any other rubber O-ring I've encountered, which makes strapping on a dildo a quick and painless affair. A light tug on the O-ring creates a large gap between the O-ring and dildo so that you can comfortably slide the strap through there without needing additional force from your fingertips. The extra elasticity has shaved an appreciable amount of time off my harness preparation routine, and is especially convenient for when I want to switch dildos in the middle of a play session.
Not Your Typical Sex Toy Silicone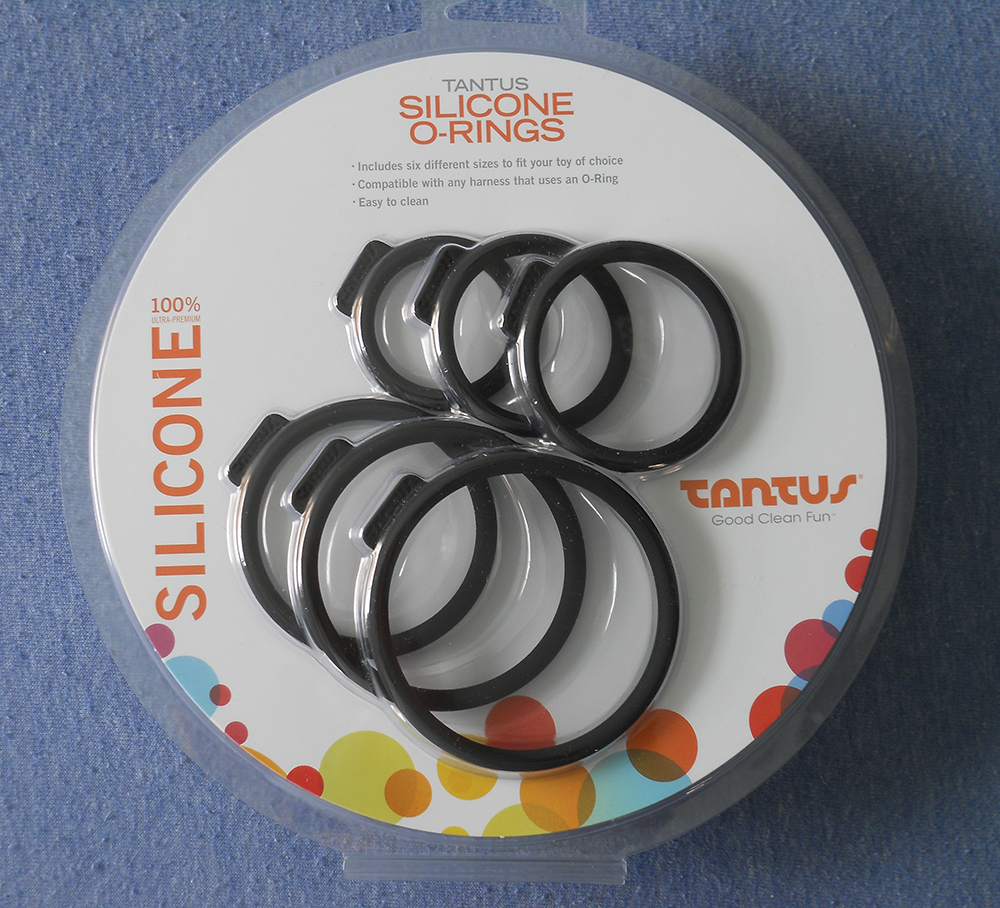 The silicone material used in these O-rings is a bit different than the silicone used in other sex toys and Tantus products. In addition to their high elasticity, the O-rings also have a slick surface that feels and acts very similar to a lubed up silicone dildo. Now this came as quite a surprise to me because I'm used to silicone dildos feeling somewhat tacky and resistant when they don't have lube on them. For this reason, I had initial concerns that a light coat of lube may be required to slip a silicone O-ring all the way down to the base of a silicone toy. This fear, however, turned out to be baseless, as the "permanent lube" texture makes sliding the silicone O-rings over other toys a quick and easy process. No lube is needed to equip your strap-on for action.
Another unexpected but pleasant benefit of the different silicone is that it's not a lint magnet. These O-rings are the first silicone sex toys I've encountered that are actually lint-repellent.
Despite being different from other Tantus silicone products, the O-rings still follow Tantus' strict safety standards. These O-rings are phthalate-free, non-toxic, odorless, bleachable, and dishwasher safe.
O-ring Performance: Silicone vs. Rubber
The elastic silicone material is clearly superior to rubber when it comes to harness preparation, but can its performance in the bedroom match the same high expectations? How secure is super stretchy silicone really going to keep my dildo when I'm thrusting as hard as I can?
Surprisingly, I did not notice a difference in sexual performance between my old rubber O-rings and the new silicone set. I tested the silicone O-rings on different dildos and harnesses. I created a blind test where I'd use the same dildo and harness but a different O-ring in each trial. Despite thorough experimentation, however, neither my partner nor I noticed a difference. The silicone O-rings provided the exact same amount of dildo stability as the rubber O-rings.
Giant O-rings for Giant Dildos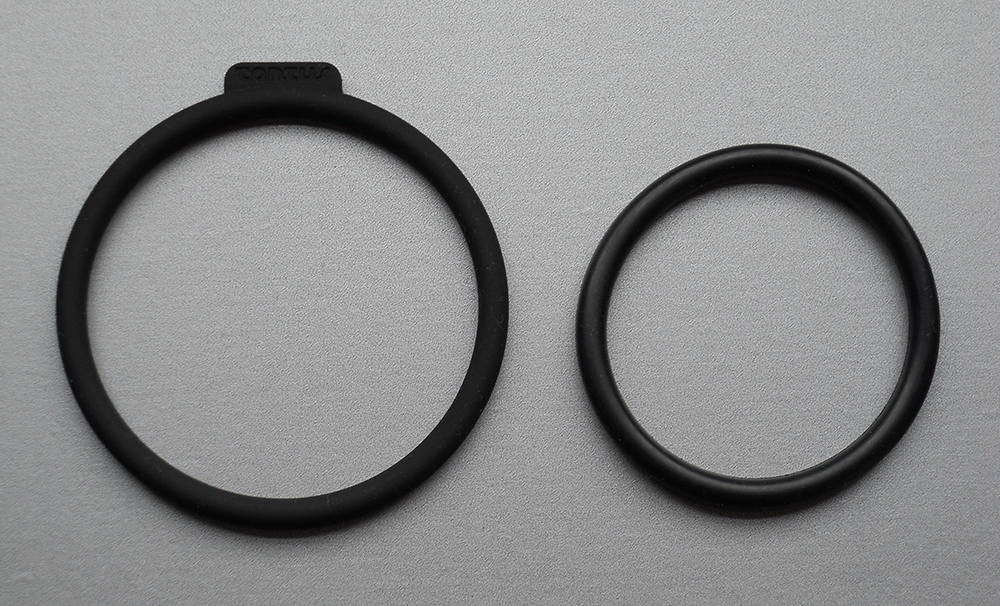 Tantus already offers a wide selection of giant "two inches or greater in diameter" dildos, so it's perfectly fitting that they would include not one, not two, but three O-rings in the set that can accommodate their girthier products. Their O-ring diameter sizes of 1.97", 2.22", and 2.5" are capable of accommodating nearly all harness-compatible giant dildos on the market.
If you have any interest in strapping on something bigger than two inches in diameter, then this silicone set is absolute MUST. There is quite literally no other strap-on O-ring out there that can accommodate anything over two inches in diameter. It's either the Tantus Silicone O-ring Set or your own improvisations, and I guarantee that the silicone O-rings perform better.
[To illustrate just how big of a size difference there is between the Tantus silicone O-ring's are compared to the competition, I took a side-by-side picture of the biggest rubber O-ring I own (2 inches) next to the largest O-ring in the Tantus set (2.5 inches).]
Bottom Line on the Tantus Silicone O-ring Set
If you ever find yourself in the market for a strap-on O-ring, then buy this set. With the wide variety of sizes and high-quality silicone material, you'll never need to buy O-rings again. It'll take you from beginner experimentation with smaller dildos all the way to hungry size queen who needs the giant 2.5" O-ring. It'll make your life easier when trying to strap your dildo on to a harness. It'll last a lifetime. No other O-ring set out there can offer the same promises.