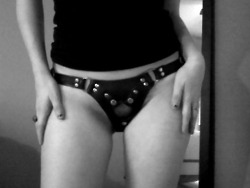 After receiving lots of positive feedback about my strap-on buying guides, I have decided expand into blogging. The My Strap-on Blog will feature product reviews, answers to reader questions, articles about sex toys, and various musings about strap-on sex.
A big relaunch is a good opportunity to reintroduce myself. My name is Pamela Pegwell. I launched My Strap-on just shy of a year ago with the intention of teaching people how to pick out a quality strap-on. I've had over a decade of experience buying and using strap-ons and look forward to sharing my knowledge on the topic.
Pamela Pegwell is indeed a pseudonym. I'm not "out" about my lifestyle and neither is my significant other. I'd prefer to keep it that way. Society hasn't quite reached the point where you can openly write about your sexual activities and not have it come back to negatively affect your life in one way or another.
My Strap-on's Tumblr Relaunch

In addition to the new blog, I am also relaunching the official My Strap-on Tumblr. Here I will share quick links, pictures, and news. Perhaps the most important part of the Tumblr relaunch is the new Ask Me About Strap-ons feature, which allows readers to easily submit anonymous questions for me to answer. I'll provide more details about how this feature will work in a later blog post, so stay tuned.
Pinterest

Among the changes at My Strap-on, I have spruced up the My Strap-on Pinterest Page. It admittedly needed some improvement, so I've cleaned it up and will continue to keep it updated with fresh content.