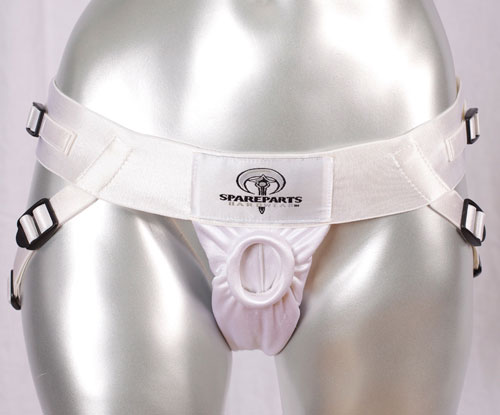 I received the following lovely reader comment and thought I would share my answer here in case anyone has similar questions regarding the SpareParts Joque Harness and Mustang Dildo.
Hello,

First of all I would like to thank you for this wonderful advisable website. You have done a great job.

I am a begginer (to intermediate) level of pegging. My first strapon kit was [Fetish Fantasy Harness and Vibrating Strap-On Kit] and to be honest in the beggining was quite good. However, since the time passed the harness is not really stable and can not keep the dildo stable.

I would like then to ask you, the Joque Strap-On Harness keeps dildos stable? And does the mustang dildo fit to Joque Harness? What is, in your opinion, the best matching in the sense of stability, control and real skin feeling dildo?
Thank you for the comment! Here are my answers to each of your questions:
1)  Yes, the SpareParts Joque Harness will keep your dildo stable. You can see for yourself how stable the dildo remains while thrusting in this official commercial for the product (skip to 0:41 for thrusting action). The video does not contain porn or nudity.
2)  Yes, the Mustang dildo fits in the Joque harness. The Joque can accommodate dildos up to two inches in diameter; the Mustang is 1.5 inches in diameter. Speaking from personal experience, the Mustang fits snug and secure inside this harness.
3)  I think you'll be satisfied with the Joque and Mustang combination. They're both high quality products that will last a long time and provide the stability you're looking for, so this combination gets my blessing. But if you're interested in shopping around, here are a few more options:
Dildos: If you're interested in the Mustang, give the Tex a look. If you're looking for a dildo that feels like real skin, but doesn't look like an anatomically-correct dick, then check out the Raquel. The Mustang, Tex, and Raquel are all produced by the same company and use the same VixSkin material.
Harnesses: The Terra Firma is my go-to harness for when I'm trying a new position and absolutely need that extra stability. Honestly, though, all of the harnesses I recommend in my guides perform very well and provide a satisfying amount of stability. I wouldn't recommend them if they didn't!