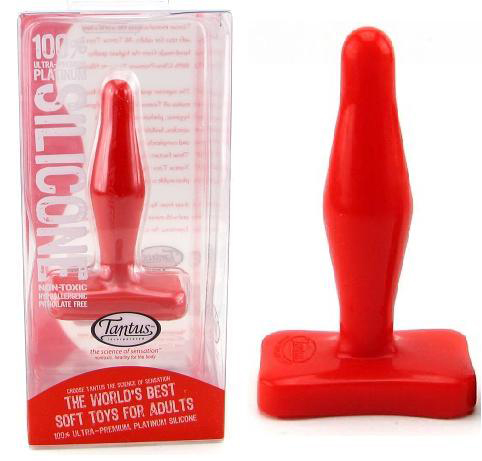 The Tantus Little Flirt butt plug was the first anal toy I ever purchased and used. Its tiny size and friendly shape made it very appealing to someone like me who was curious about anal play, but not yet ready to try an average size butt plug. Over ten years later, I can wholeheartedly confirm that I made the right decision. The confidence and pleasure I gained from experimenting with this little toy encouraged me to move on to bigger toys, so that here I am now with an entire website of butt toy and pegging dildo reviews. Yes I do love my anal pleasure, and it all began with the Little Flirt.
So when I found out that Tantus redesigned and improved the Little Flirt, I just had to see for myself how they made an already awesome toy even better. Here is my experience.
The New Little Flirt — Still A Good Beginner Butt Plug
With an insertable length of 3¼ inches and a maximum diameter of 7/8 inch, the Little Flirt is slightly thicker and shorter than the middle finger. The head is about the size of the middle fingertip with the rest of the toy roughly doubling in size as you go down towards the base. This makes for a very easy and forgiving toy to insert. With a little bit of lube, it can slide right in with minimal discomfort or preparation. If you've already tried inserting a finger into the anus, then you won't have difficulties taking the Little Flirt. It feels like a fingertip going in but provides even more pleasure and fullness as you reach the wider middle of the plug.
Another beginner friendly feature of the Little Flirt is that it's made of medical grade silicone that is somewhat flexible. It's firm enough to easily insert, but not tough enough to cause pain and discomfort. Like all Tantus products, the silicone is high-quality, phthalate-free, and American-made. It's tasteless and odorless, and can be bleached and boiled for easy cleaning. In the ten-plus years I've owned my original Little Flirt, it has been dropped, stepped on, thrown carelessly into drawers, and occasionally lost, but it's still in damn fine condition despite the utter abuse it has received. Tantus' silicone is an incredibly durable material.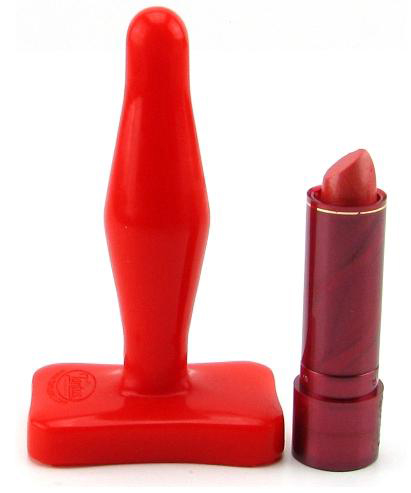 The most noticeable change Tantus made to the Little Flirt is that it redesigned its flared base. Flared bases are an important safety feature on anal toys because they prevent the toy from accidentally going too far into the ass and requiring a trip to the emergency room to retrieve it. The old Little Flirt's base was a bit too wide, though, and combined with the insertable part's small diameter, the plug had a tendency to fall out. If you read older reviews for this product, then you'll see this complaint pop up rather frequently.
The new rectangular base, however, offers little improvement in this regard. This is not a butt plug that you can wear for hours as you walk around going about your daily business. It's a fun plug to use solo or during foreplay. It's not terribly reliable during sex, and while it may stay in place in certain positions, others will have it fall out without warning. If what you're looking for is a plug that will comfortably stay in your ass for hours or during vigorous sex, then I recommend finding something that is rounder, larger, and with a different-shaped base (the Njoy Pure Plug is my recommendation for those uses). Consider the Little Flirt as a way to get used to the sensation of having a toy in your ass and not for heavy anal play.
Another drawback is that, like all silicone toys, the Little Flirt is a lint magnet. It will collect lint just from drying it with a towel or placing it on the bed. My standard advice when dealing with silicone toys is to rinse it off before use, dry the base, and place it upright until you're ready to use it. Another alternative is to keep some toy wipes with your lube and condoms so that you can give the plug a quick wipe down before use.
The Benevolent Butt Plug
The Little Flirt's small size and forgiving shape make it the friendliest, least intimidating anal toy you can buy, and therefore the ideal butt plug for the curious and inexperienced. As an anal play newbie ten years ago, experimenting with the Little Flirt helped me get over my fears and awkwardness regarding anal pleasure and made me hungrier for more. I hope it has the same effect on you.
Available at SheVibe, Tantus, and The Stockroom.