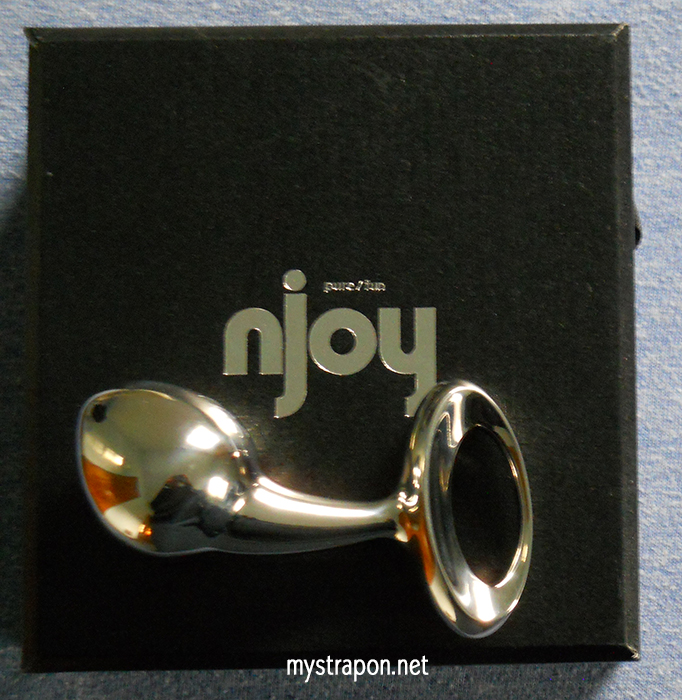 The Njoy Pure Plug is the best butt plug I've ever used. As an anal play connoisseur, I've had a lot of toys in my ass over the years, so to declare the Pure Plug as an all-time favorite is high praise indeed. The Pure Plug's expertly-designed shape and stainless steel material makes it easy to insert, comfortable enough to wear for hours, and secure enough so that it will stay put no matter how wild your movements. I have yet to find another plug that excels in all three of these qualities. Since the Pure Plug is one of the most frequently used toys in my toybox, I have quite a lot to say about it. This might not be an objective review, but it will certainly be detailed!
The Njoy Pure Plug comes in three sizes: Small, Medium, and Large. I've only ever used the Medium, so this review and its accompanying pictures are about the medium size only. The Medium has a 1¼ inch head, 2½ inch insertable length, and a weight of 7 ounces.
Why the Njoy Pure Plug is The Best Butt Plug I've Ever Used
My primary concern when choosing a butt plug is how easy it will be to insert and remove. If the plug is too big, too bulbous, and makes insertion feel more like a burden than a thrilling experience, then I won't use it ever again. I'm lazy and don't like having to put extra effort into getting a toy in my ass. So this, above all other reasons, is why I love the Pure Plug so much. Insertion and removal is quick and painless. The stainless steel material becomes very, very slick when you add lube to it, so it slips right in without requiring much pressure. I can easily and comfortably insert it without first warming up with a finger or smaller plug.
You may be wondering at this point, "If it's so easy to slide in, then what's to stop the plug from falling out?" Well, the experts over at Njoy have created such a perfectly designed head, curve, and handle that this plug remains very secure in your ass. You can do squats with this plug in and it won't budge. Whether you walk around with it for hours or wear it while having vigorous sex, it's not going to come out until you pull it out. And thankfully, pulling it out is just as easy as putting it in. All that's required is a gentle, steady tug. No pain, uncomfortable resistance, or "popping" sensation that sometimes occurs with bulbous plugs.
Another benefit of the Pure Plug's stainless steel material is that it provides a satisfying and pleasurable amount of weight. It's not too heavy, so it doesn't feel painful or burdensome even when you leave it in for a long time. It's just enough weight to provide a pleasurable amount of fullness, and to remind you that there's a toy in your ass that some naughty person put it in there. That's a huge turn on for me. I don't get that kind of physical or psychological thrill with lighter silicone toys. A heavy piece of steel in your ass is far harder to ignore or lose interest in than lightweight silicone.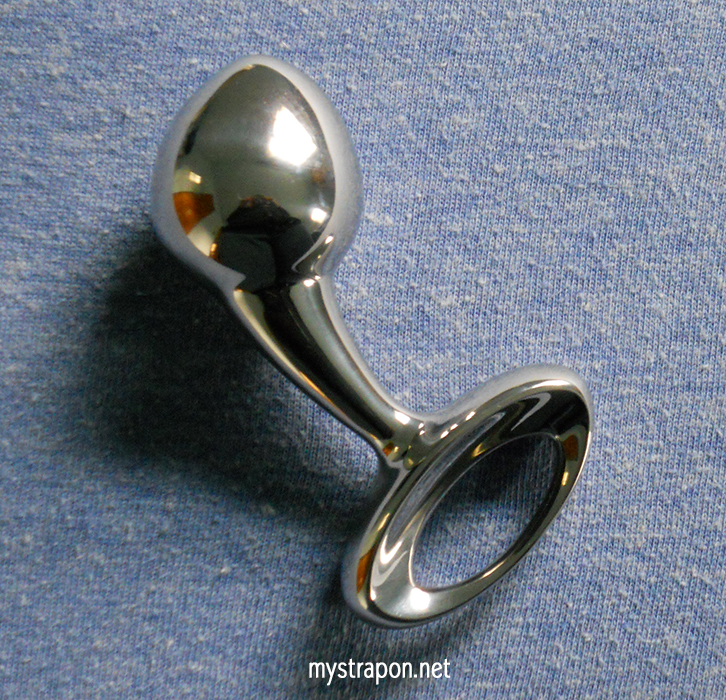 The engineers over at Njoy also put a lot of thought into the Pure Plug's handle. If ease of insertion is my first major concern about using a butt plug, then the design of the handle would be a close second. I have thrown away too many butt plugs because the base is too big, too sharp, or too unwieldy to be worn comfortably. The Pure Plug once again gets it just right. The handle is long enough to safely keep the toy from getting lost in your ass, but slim enough that it fits comfortably between the butt cheeks. No chafing, digging into the skin, or unnecessary spreading here. I find it easier to wear than thong underwear. My only complaint about the handle is that it is also made of stainless steel, and therefore gets very slick if you get lube on it. Maintaining a firm grip on the handle as you get into position to insert it can be difficult.
A final note about using stainless steel toys: They are very temperature sensitive. You know how doctor's instruments are always freezing cold? You'll run into the same issue with the Pure Plug. Now this is easily remedied by running it under hot water until it warms up, but for spur-of-the-moment fun, it can be annoying. Or perhaps titillating if you're into temperature play.
A Butt Plug You Can Comfortably Wear For Hours
The comfortable handle, its satisfying weight, and the security in knowing that it's not going come out until you want it out make the Pure Plug the best butt plug for long term use. I have worn this for hours with no pain, discomfort, or embarrassing mishaps involving the plug accidentally falling out. If what you're looking for is a plug during sex, then it's great for that as well. It won't accidentally pop out no matter what crazy position you try nor will it cause pain during vaginal sex. The Pure Plug is simply a must-have for any anal play enthusiast.
Available at Good Vibes, Babeland, SheVibe, and The Stockroom.