If you've been thinking about buying a strap-on harness or a new sex toy, then this is an excellent weekend to do so. There are great deals and site-wide sales to take advantage of. Here are some of the best deals.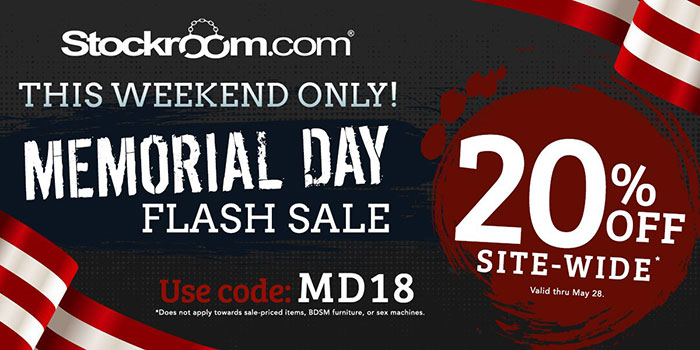 The Stockroom's Memorial Day Weekend Sale — 20% Off Site-Wide
Use coupon code MD18 at checkout to get 20% off your order.
Sale runs May 25 – May 28
Sale Exclusions: Sale-priced items, BDSM furniture, and sex machines
My top recommendation for The Stockroom's site-wide sale is the Terra Firma Harness. The Terra Firma Harness is my favorite harness of all-time, and is an all-around great choice for beginners and experienced strap-on users alike. The Terra Firma rarely goes on sale, so this week is your best chance to get a good deal on it.
If you're buying a harness, make sure you have a harness-compatible dildo to go with it. Out of all the dildos on sale at The Stockroom this weekend, the Bandit is my top pick (the Silk Dildo remains my top pegging dildo recommendation and an all-time favorite, but it's unfortunately not available at The Stockroom right now).
For readers who already own these pegging staples and are looking for something different, check out the Vanity Harness. Not only does it look amazing (there are sexier pictures of this harness on The Stockroom's website that are too racy to post here), but its unique strap system allows you to strap just about anything into the harness.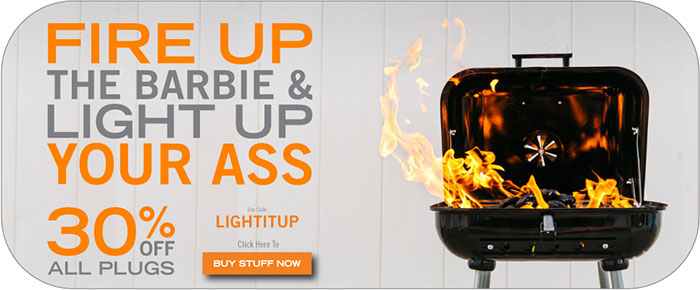 Tantus's Memorial Day Weekend Sale — 30% Off Buttplugs
Use coupon code LIGHTITUP at checkout to get 30% off buttplugs.
Sale runs through May 28
Tantus's entire buttplug collection is on sale this weekend. If you're in the market for a buttplug, here are my recommendations:
P.S. Did you know that Tantus now makes a hanky that specifically advertises strap-on sex? Since Pride and kinky summer event season are almost here, it's a good time to stock up now.