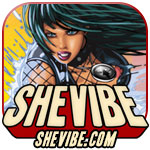 The highly anticipated line of Tantus Connoisseur Harnesses has finally arrived! SheVibe just rolled out this new line of five premium leather harnesses, and man, do they look amazing! Their curves and patterns are unlike anything I've ever seen on a harness. Red spiderweb patterns? A "Nurse" harness? Oh, the roleplay possibilities! While I appreciate the simplicity of "traditional" solid black leather harnesses, I'm excited to see a fresh and fashionable update from a reputable company. Most impressive to me, though, is that three of these harnesses—the Nurse, Amazon, and EZ—will fit up to 60-inch hips. If you've ever taken a look at my Best Plus-Size Strap-ons Guide, you'll notice that sleek and sexy leather harnesses are all but impossible to find in this size range. I applaud Tantus for adding three more sexy options to the plus-size harness market. The Connoisseur line certainly beats the competition in aesthetics.
As someone who has worn more strap-ons than I can count, I had to know more. After doing some research and exchanging a few emails with Tantus, here is my take on the new Connoisseur line.
Nurse Connoisseur Strap-On Harness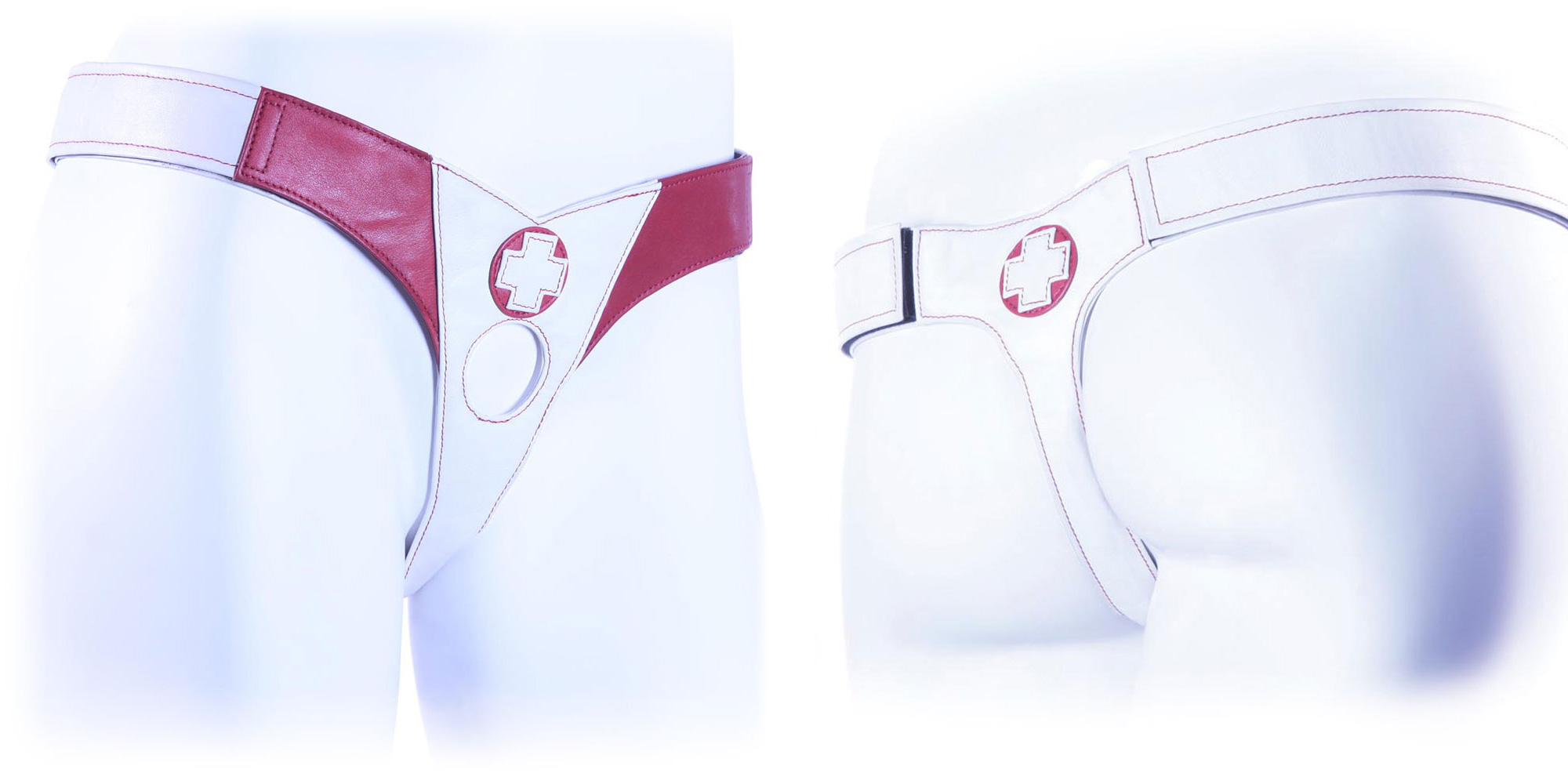 The Nurse Harness is a must-have for anyone into nurse roleplay and strap-ons. Make sure you pair it with a sexy nurse outfit to get the full effect.
A major concern I had about the Nurse, EZ, and Amazon harnesses (more on the other two later) is that they have a permanent O-ring that is 1½ inches in diameter. I mentioned to Jenna over at Tantus that I was concerned that dildos with a smaller diameter may not be stable with this setup. Jenna, however, put my concerns to rest with the following explanation and pictures:
"What you'll want to watch is the size of the toy's base, because you'll want one that's large enough that it won't pull through the o-ring. I'd say any toy with a base of at least 2″ would work well. Both the Silk Medium & Silk Small would fall into this category."
Here is the Nurse Harness with a the Silk Small Dildo (0.8 inch diameter):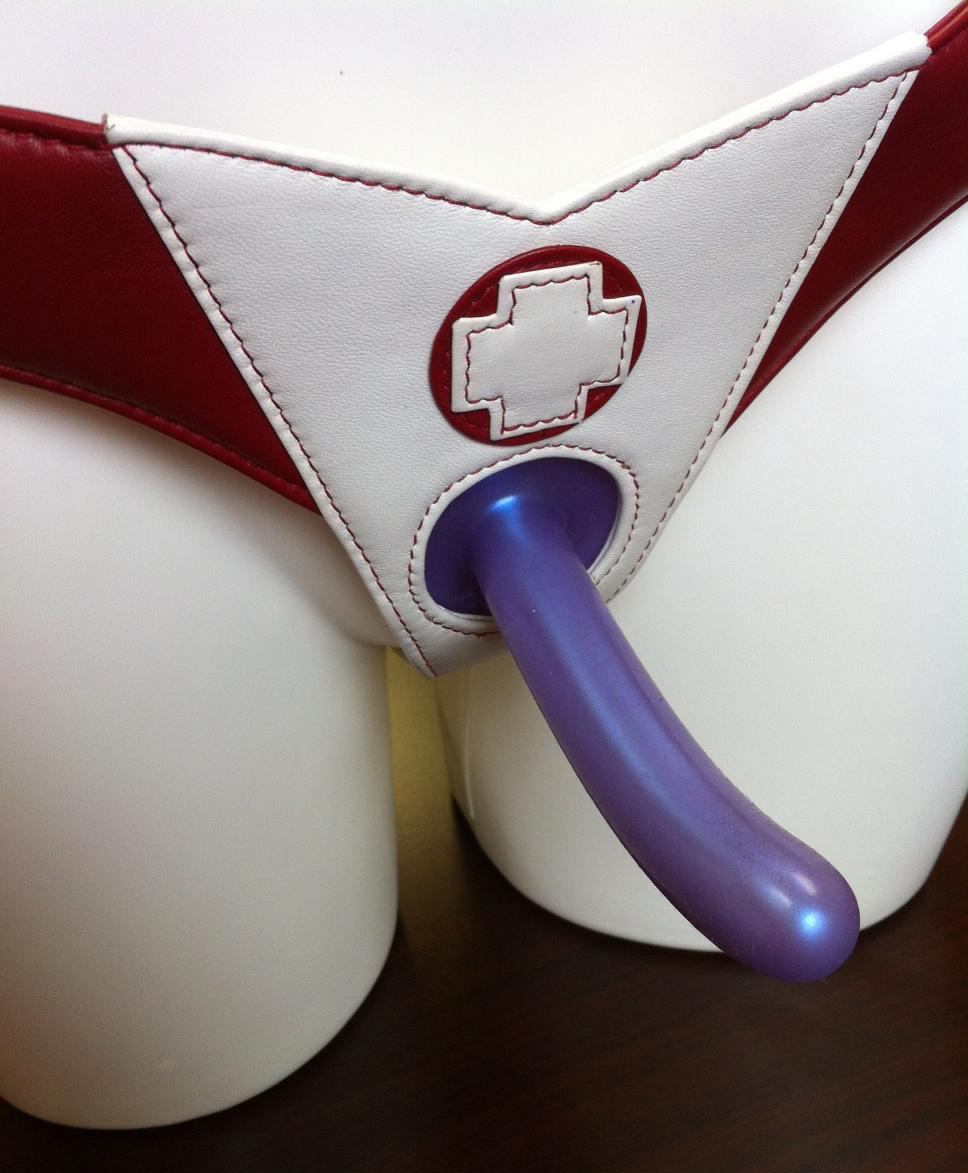 Here is the view inside the Nurse Harness. Pictured here is the base of a black Silk Medium Dildo (1-inch diameter):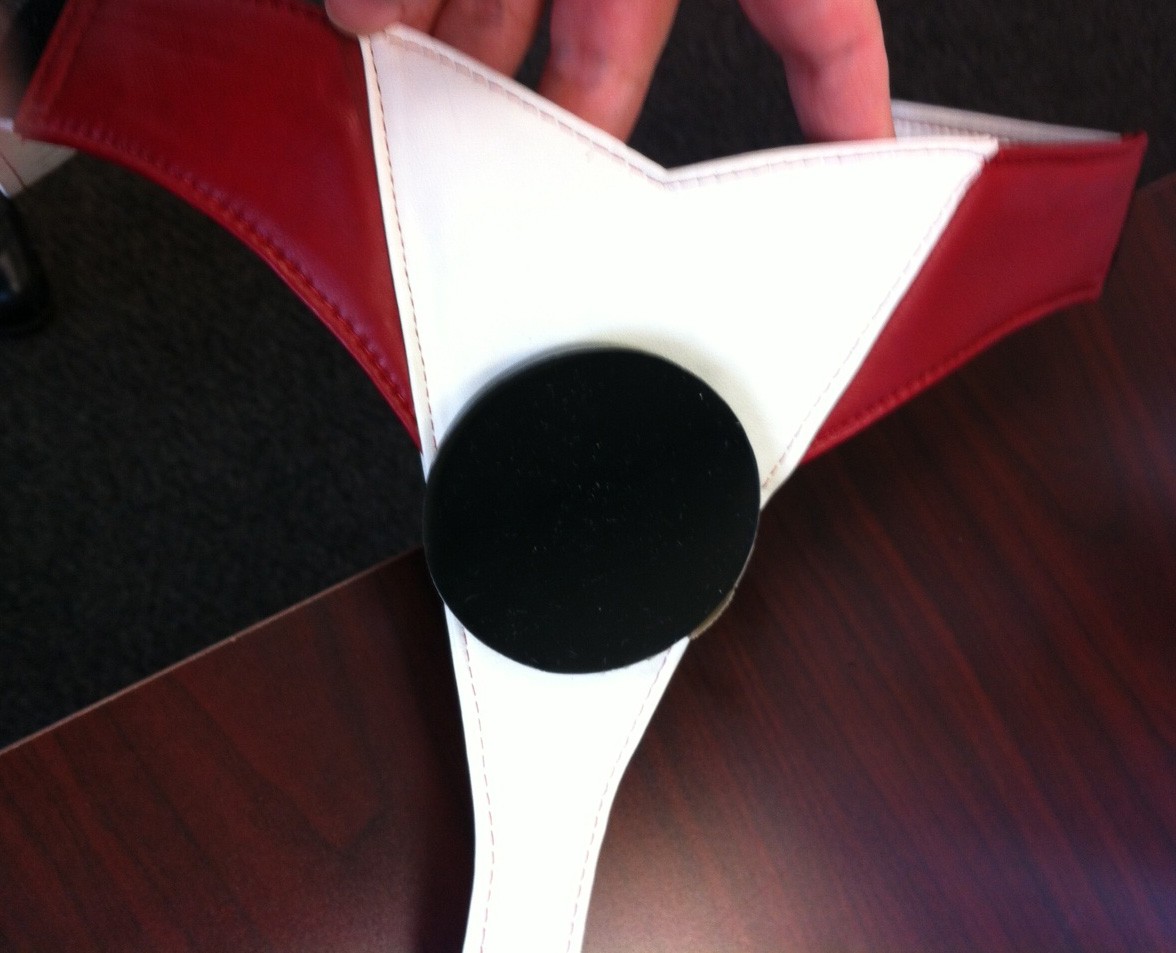 Even the tiny Silk Small looks like it's in no danger of slipping out of position. Adjusting the harness so that it's snug against the body should keep the dildo stable while thrusting. I am satisfied that this O-ring setup would meet most people's needs, although people who want to use giant dildos or dildos with bulky bases should probably stick with the interchangeable O-ring on the Black Widow.
Black Widow Connoisseur Strap-On Harness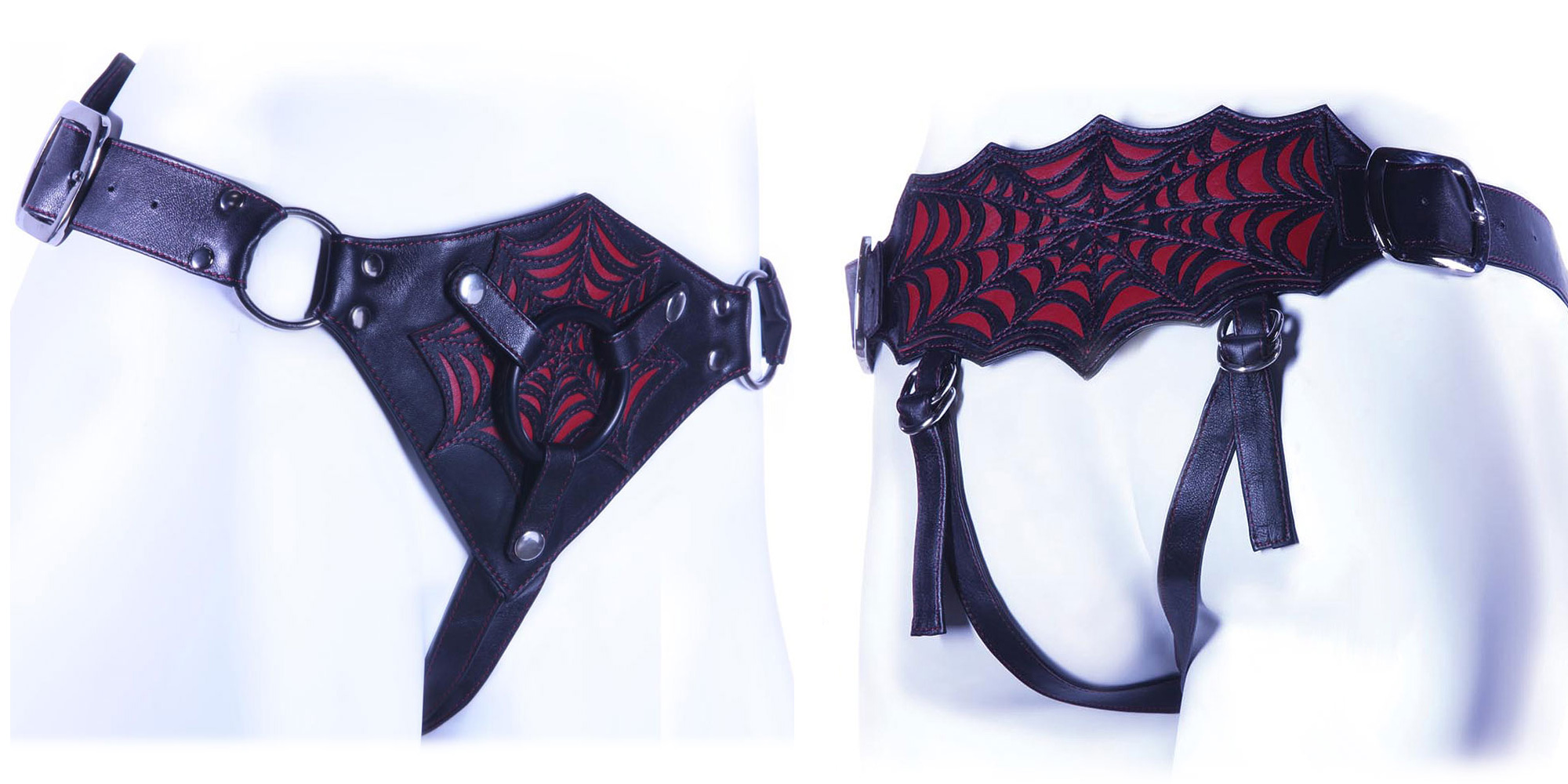 The Black Widow Harness is the other extremely memorable and distinctive harness of the bunch. I love the way the spiderweb in the back dips down just enough to accentuate the butt cheeks, but not far enough to cause discomfort. More important than aesthetics, though, is the interchangeable O-ring and the solid leather backing. This setup lets you equip a wider variety of dildo shapes and sizes than any other harness in the line. Do you like dildos that are monstrously huge or have giant balls? If so, then this is the Connoisseur harness that best suits your needs.
By the way, I'm dubbing Black Widow harness the "Superhero Harness" because the Black Widow name and look reminds me of a larger-than-life comic book character. Imagine the roleplay scenarios: Will you play the heroic mistress who punishes her foes, or the cruel villainess who tortures her prey?
Amazon Connoisseur Strap-On Harness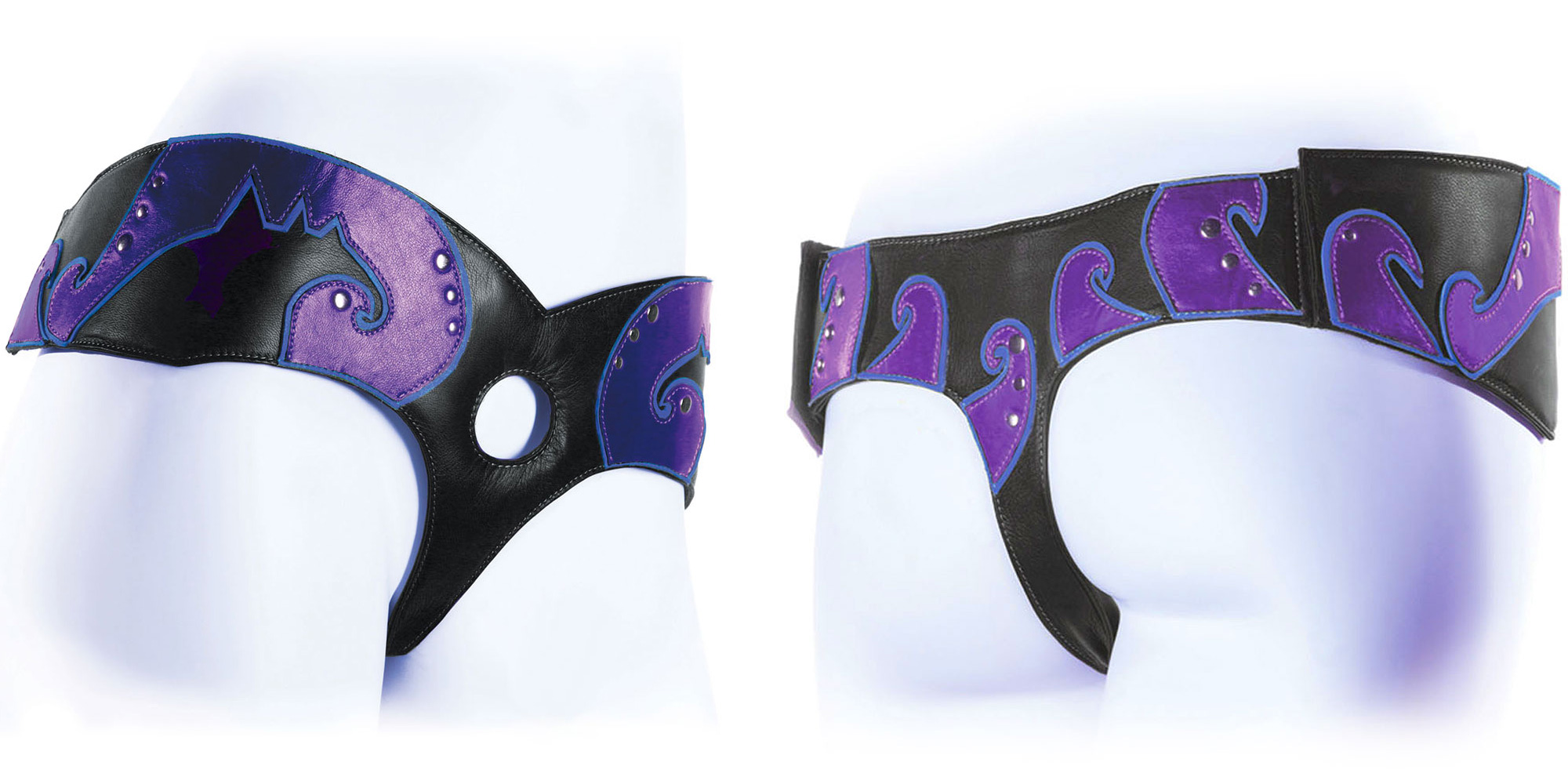 The wide Velcro belt on the Amazon Harness intrigues me. This strikes me as a comfortable harness that you can quickly throw on for spur-of-the-moment action. Velcro is very underrated and has an undeserved reputation of being "cheap." Anyone who has ever worn a Velcro harness, though, will tell you that the Velcro will keep your harness snug and secure even if you run a marathon and do gymnastics in it. It's more forgiving than buckles if you want a skintight grip, especially if you have an unusual body shape. It's the main reason why I have faith that the permanent O-ring will work well on these harnesses: The easily adjustable Velcro will fit your body like a glove and keep that dildo base nice and snug against your body. UPDATE: Read my Amazon Harness Review for more detailed pictures and insight about this harness.
Nevada Connoisseur Strap-On Harness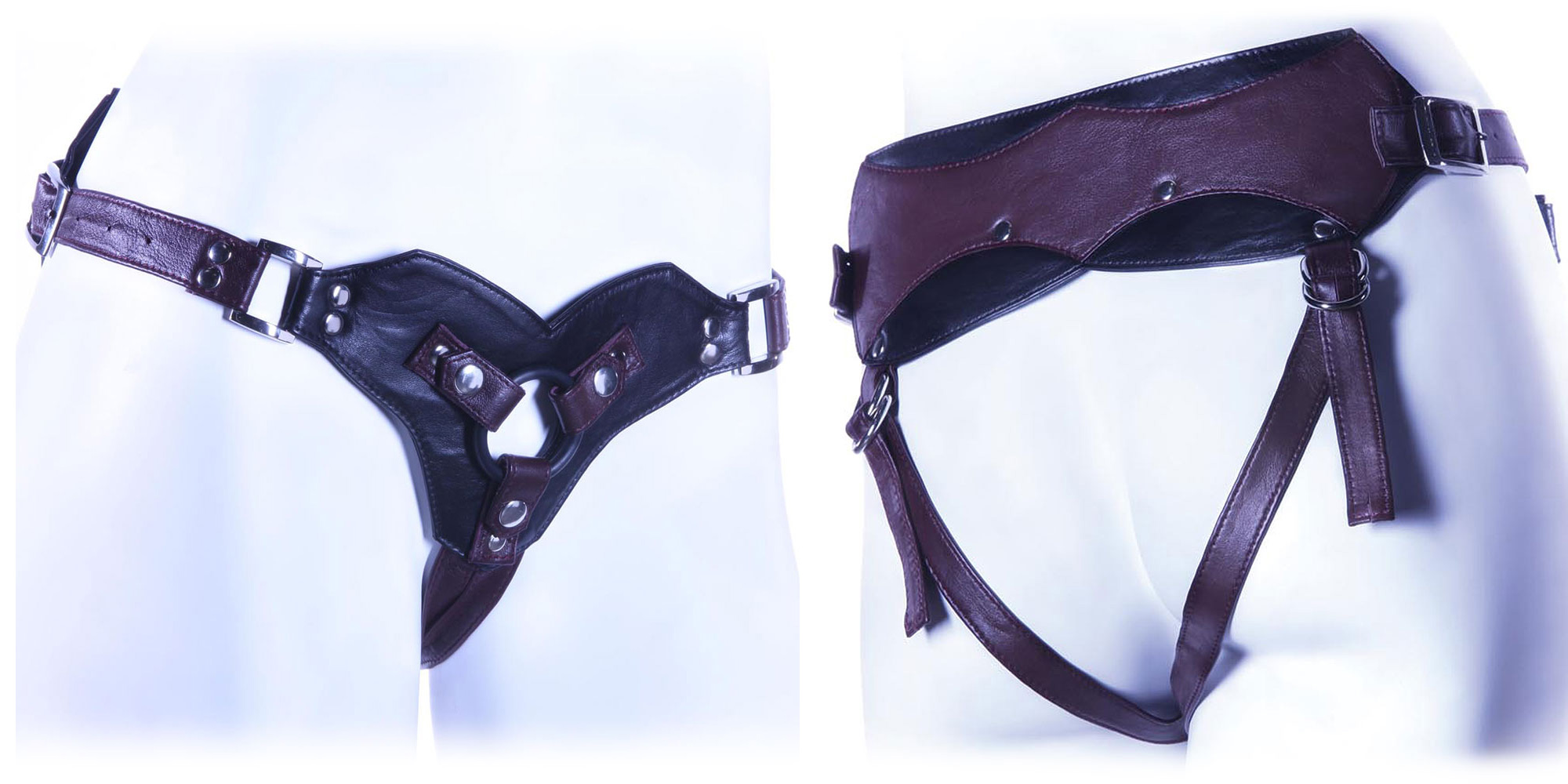 The Nevada Harness is my favorite of the Connossieur line primarily because of the aesthetics. I love the brown leather accents, and am disappointed that I don't get to see this color more often in harnesses or fetish wear. I love the curvy cut in the front and the slim buckles. What a gorgeous harness!
The adjustable O-ring is a nice bonus, but I still think the Black Widow's leather backing makes it a better fit for those who want to use unusual dildos.
EZ Connoisseur Harness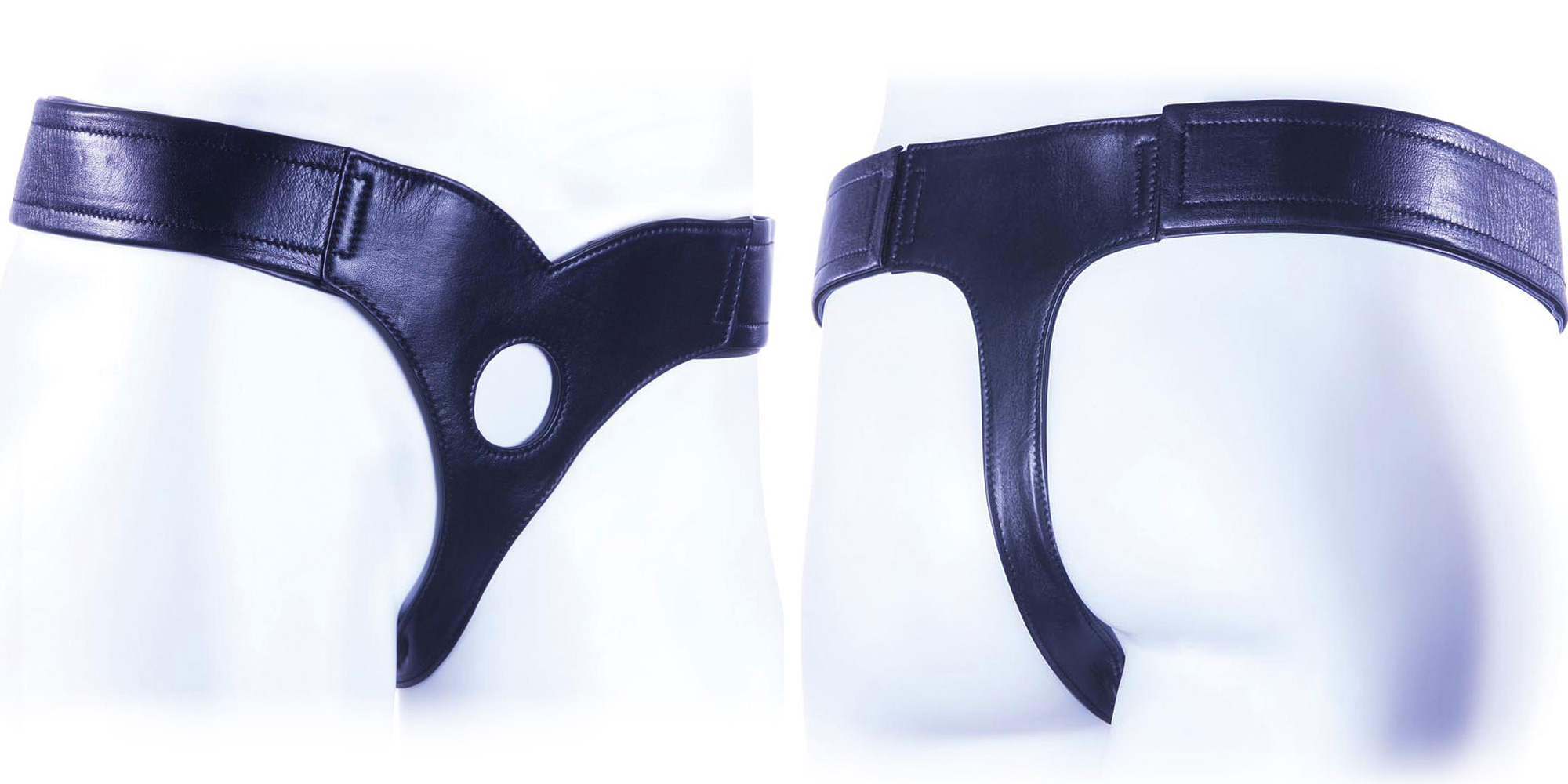 The EZ Harness is the Nurse Harness without the cosmetic features. What I wrote above about permanent O-rings and Velcro applies here as well. It might not be as flashy as the other harnesses, but its simplicity is still sexy. It's also about $30 cheaper than everything else in the line except the Nurse harness, which is the same price. A good value if you're looking for a quality harness without all the glitz.
Which Connoisseur Harness is your favorite? If you own one, then please share your thoughts about it in the comments.