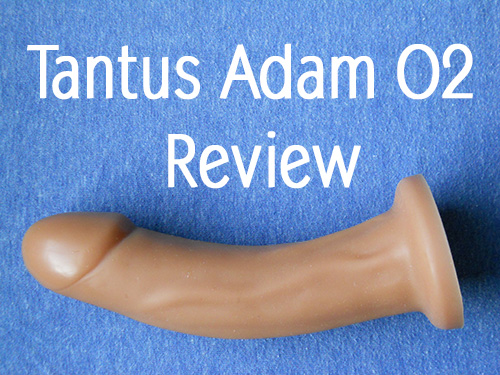 It sounds contradictory to want a realistic dildo that doesn't seem too realistic, but that concern exists for my lover and I. While I can appreciate dildos with realistic textures and anatomically-correct shapes, I don't want to feel like I'm fucking an actual dismembered penis. Realistic dildos that are insanely detailed and covered in bulging veins are, quite frankly, a turn-off for me. I'm prefacing my review of the Tantus Adam O2 Dildo with this perspective so that you can better understand why I appreciate its realistic, but subtle features. This is a dildo with an appropriate balance of looking and feeling real, but not so real that it's a turn-off.
The Adam Dildo: Could Eve Tell The Difference?
From a visual perspective, the Adam is the friendliest realistic dildo that I've ever used. The anatomical features are there—glans, urethra, and veins—but they're subtle, and, unlike other realistic dildos I've encountered in the past, not exaggerated to the point of looking cartoonish. The veins are subtle enough to remain a cosmetic feature only and cannot be felt while inserted. The glans is somewhat bulbous against the shaft, but not enough to cause resistance or an unpleasant "vacuum" effect. Overall, the cosmetic features do an excellent job of remaining purely cosmetic and do not cause resistance or distraction while thrusting.
How real does the Adam feel? It feels more real than your average silicone toy, but you would have no problems picking it out it in a blind test with a real penis. Still, I had a ton of fun just squeezing and rubbing the Adam. Its surface has this delightfully tacky feel that is similar to skin with a similar resistance when you rub it. It makes less realistic silicone dildos, such as my beloved Silk, feel almost cold and clinical in comparison. With regard to firmness, the Adam's shaft is somewhat firmer and less flexible than the Silk and other silicone dildos I've used in the past. The head is a bit softer and squishier than the shaft, but not enough to make insertion difficult. The firmness combined with its skin-like surface gives the Adam a somewhat "warmer" and more personal feel overall when compared to non-anatomically correct dildos, but not one that you would mistake for an actual cock. As I explained in the intro, the realistic features are subtle.
Another notable feature of the Adam is that it weighs in at 9.75 ounces, making it one of the heavier silicone dildos I've ever used. As a personal preference, I like heavier sex toys because the extra weight makes me feel even more full. As you'll read in the next few sections, the Adam is no exception here.
An Intense Pegging and Anal Experience
The Adam O2 not a beginner anal dildo. With its 1.5 inch diameter, you will need to warm your ass up first either with fingers, a butt plug, or a smaller dildo before inserting the Adam. If you are not experienced and comfortable with smaller toys, then the Adam is going to be too girthy for your needs. You need to be comfortable with anal sex to insert and enjoy this dildo.
Although the product specs are identical to the Silk Large, I swear the Adam feels girthier than the Silk. Perhaps it's the Adam's heavier weight or the more bulbous head, but the toy provides more fullness and feels bigger than advertised. I know the numbers don't lie, but I'm being upfront about how I feel because it's a more difficult toy to handle than similarly sized dildos than I've used in the past.
Taking the above into consideration, my partner and I, both experienced anal play veterans, quite enjoyed the Adam. Its girth and weight provided more fullness than most dildos we've used, and overall, it was an intense anal experience. The head did not cause any unpleasant resistance or "vacuum" effect while thrusting despite being somewhat bulbous in shape. The Adam's wider and softer head made thrusting against the prostate feel very pleasurable without any pain or discomfort. Indeed, combined with the girthier size and weight, my partner was able to achieve a very intense and powerful orgasm.
Friendly to My Sensitive G-spot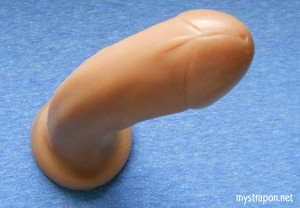 I have an extremely sensitive G-spot, so the Adam's softer head was very much welcome here. Many G-spot dildos and vibrators have caused me pain in the past either from bad design or material that is too tough, but the Adam's softer head was more forgiving than what I'm used to. It felt quite pleasurable against my G-spot even during hard, vigorous thrusting, and I experienced no pain or discomfort. The toy's overall girth and weight provided a satisfying amount of fullness without feeling like I was fucking a giant. Overall, the Adam gets my recommendation for vaginal use, especially if you are like me and have a sensitive G-spot.
Final Thoughts on the Tantus Adam O2 Dildo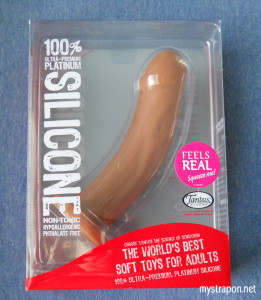 The Adam O2's size, weight, and subtle features were a big hit with my partner and I, providing a satisfying size upgrade from beginner dildos without feeling monstrously huge. Keep in mind, though, that we're both experienced in anal play and while we enjoyed our experiences with the Adam, we caution beginners to start with smaller toys.
Even though we're not big fans of realistic dildos, the Adam's subtle features won us over. The soft head had practical benefits, and the skin-like texture of the toy made using it feel a bit more intimate in comparison to the bright neon, non-anatomically correct toys that we're used to. It provided a refreshing contrast to our less-realistic dildos without making either of us feel turned off or intimidated. For those of you who want realistic dildos without the super-realism or exaggeration, I highly recommend the Adam.
Disclaimer:  I received an Adam dildo from Tantus in exchange for an honest review. My words, opinions, and experiences about this product are 100 percent my own.