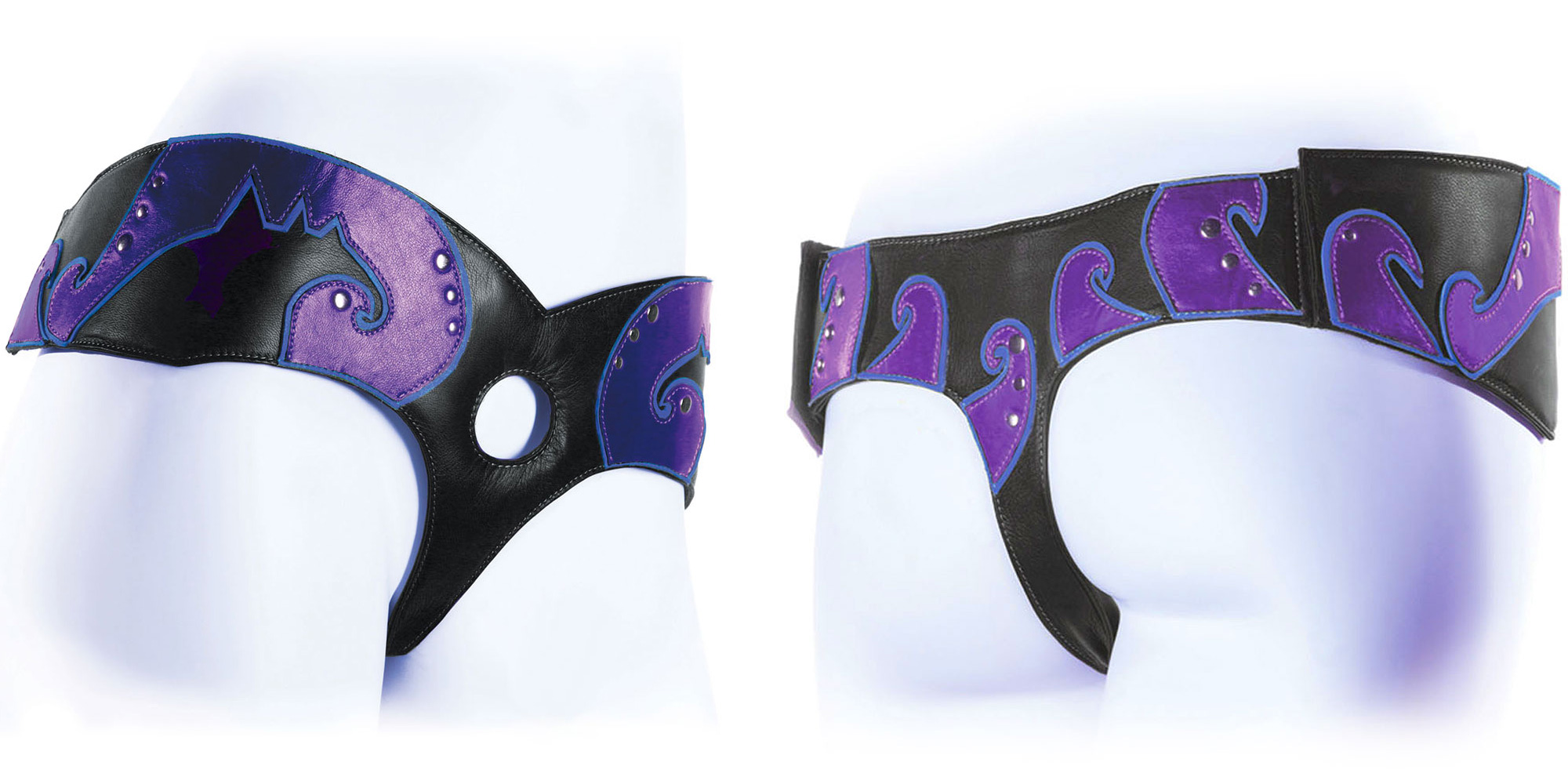 The Tantus Connoisseur Harness line has generated a massive amount of buzz recently culminating in an AVN "O" Award win for "Most Outstanding Product Accessory Line of the Year." The Tantus press releases and marketing department continue to promote the Connoisseur line's style, comfort, and performance, and boast that they're "unlike anything on the market." As both a strap-on enthusiast and a fan of Tantus, I've been eager to try one out for myself to see if the harness matched the hype, and now I finally have my chance.
Out of the entire Connoisseur line, the Amazon Harness was the one I wanted to try the most. Finally, a Velcro harness that doesn't look like rock climbing gear! Finally, a sexy leather harness that can also fit plus-size users! Tantus wasn't kidding when they claimed that the Connoisseur Harnesses were "designed by people who actually use them." Could this be too good to be true? With expectations this high and a "strap-on expert" title to live up to, I put the Amazon Harness through the works. After many vigorous testing sessions, I am ready to offer my in-depth analysis of the strap-on market's latest innovation. Those not prepared for a 2,000 word novella are free to scroll down to the recommendation guide at the end of my review.
The Amazon's Velcro Belt:  Puts the "Fast" in Fasten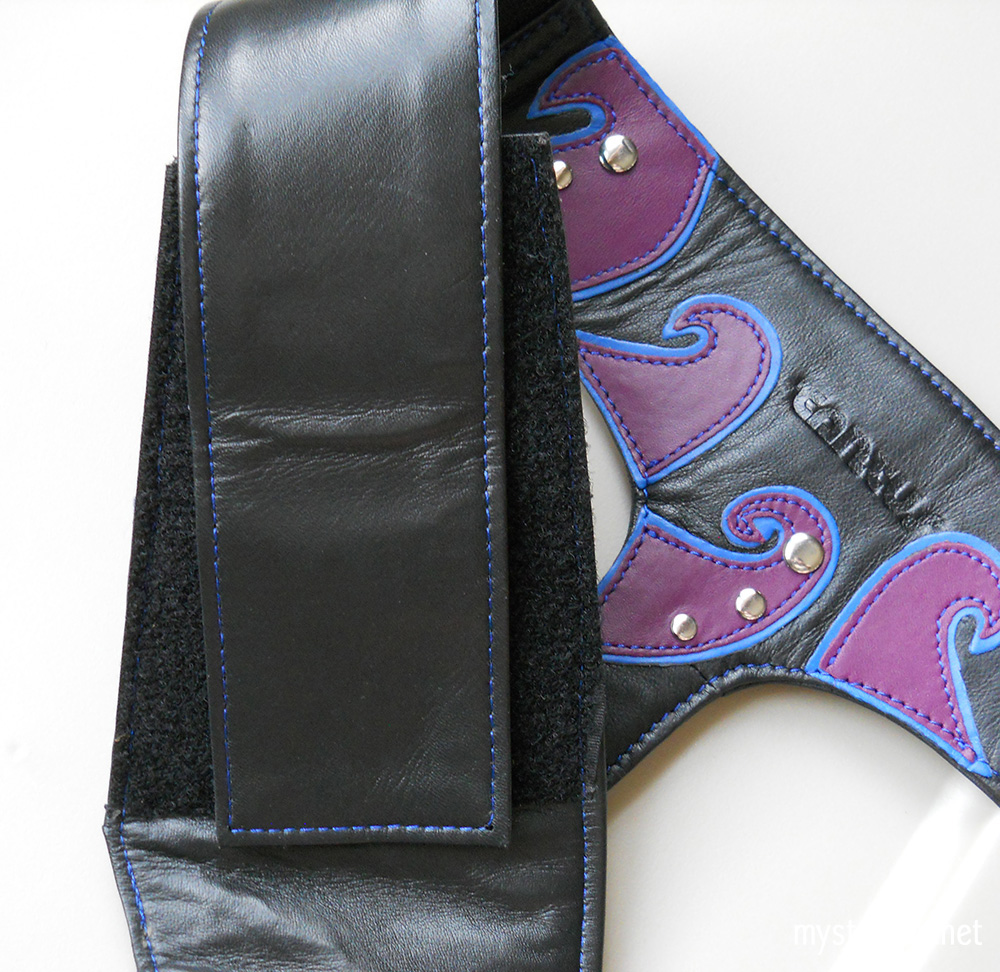 The Amazon's most notable feature is the wide Velcro belt it uses to attach itself to the body. Put aside any doubts and assumptions you have about Velcro when considering a Connnoisseur harness because the usual stereotypes do not apply here. The Amazon's Velcro is high quality and very strong. Once I adjusted the Velcro belt to a comfortable fit around my waist, the harness stayed in place no matter what position I used or how vigorous I thrust. No slipping, sliding, or sudden need for readjustment. The Velcro did not unexpectedly separate or otherwise fail.
The Velcro belt also makes this harness highly adjustable, allowing you to wear it as loose or as tight as you please. I was able to adjust it to a very tight fit that would rival even the most gut-squeezing corset, though the resulting overstuffed sausage effect it had led me to loosen the belt to a more comfortable and attractive, glove-like fit. Since Velcro is much more forgiving and adjustable than buckles and belt notches, I especially recommend the Amazon to plus-size users and anyone with an unusual body shape.
Perhaps the greatest benefit of the Velcro belt is that it makes putting on the Amazon incredibly quick and easy. It takes me about 30 seconds to strap the harness on and adjust it to a comfortable fit, and I could probably reduce that time with more practice. Now as much as I love my sexy two-strap harnesses with shiny buckles, they require a bit more preparation to strap on and aren't conducive to spur-of-the-moment play. Unexpectedly stopping hot and heavy foreplay for a minute or two to go fumble with small belt buckles can be a real mood-killer. The Amazon's Velcro belt, however, lets you get ready very quickly with minimal interruption. I must admit that keeping such a convenient harness near the bed led to some unplanned strap-on action on more than one occasion. I'll probably keep the Amazon in our regular toy rotation just for this reason alone.
A Thong For Your Fake Dong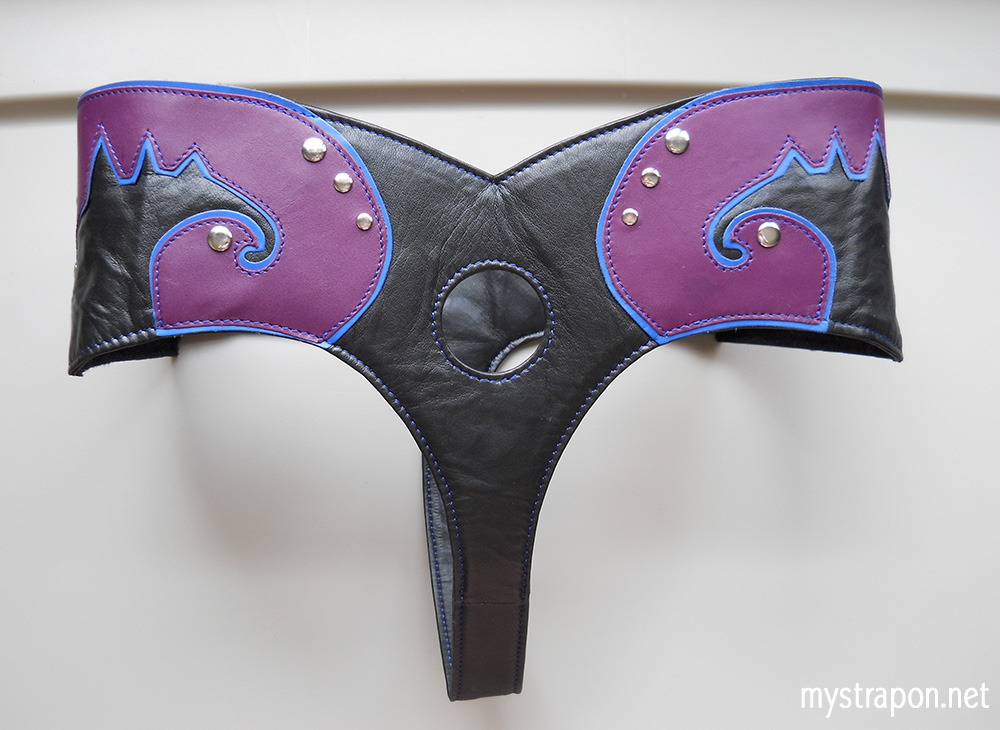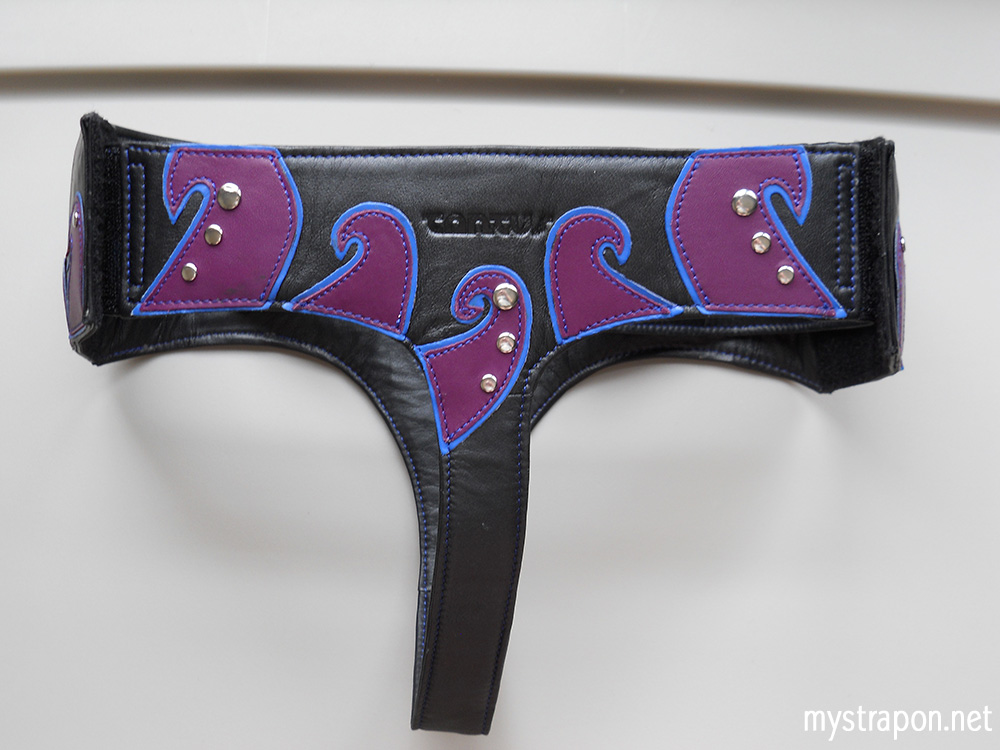 Wearing the Amazon feels like wearing an oversized leather thong. If you do not like wearing thong underwear, then this is not the harness for you. When the belt is adjusted comfortably around the waist, the bottom strap fits tightly against the crotch and digs deep into the buttcrack. I'm admittedly indifferent to thong underwear, but I did not find the Amazon to be uncomfortable, nor I did experience chafing, itching, or painful digging into the skin. The leather strap is wide enough to cover the labia, so that it doesn't dig into the sensitive bits. The strap does, however, block access to the clitoris and vaginal opening, so if you require access to these areas during strap-on sex, then use a different harness.
A strap-on harness should make you feel sexy, and the Amazon certainly does not disappoint in this regard. A pleasant result of the thong design is that it made my ass look amazing. The wide belt and its curves seemed expertly-designed to frame my hips and buttcheeks in the most flattering and seductive manner possible.
Although I looked and felt great while wearing the Amazon, I am disappointed that it did not deliver the sensual experience that I expect from leather harnesses. The Amazon's label says, "100% premium leather," and while it does feel like 100% leather, it is not the same level of quality that other competing leather harnesses in this price range offer. One gripe I have is that the characteristic leather smell that exudes off of a fine leather product is only very faint on the Amazon; a problem for someone like me who finds that leather smell to be an aphrodisiac. Another gripe of mine is that the leather's thickness is inconsistent. The leather is soft in the belt, but stiff in the thong and around the O-ring to the point where it feels like there is a very thin cushion or lining sandwiched between two layers of leather. The inconsistency is reminiscent of cheap faux leather products. If you're picky about leather or are looking for a sensuous leather experience, then I advise skipping the Amazon and looking elsewhere.
One final note about the Amazon's appearance: The purple trim on the harness is actually a wine-colored purple, and is not as bright as the stock photos portray.
The "Uh-Oh" Ring
When deciding whether or not to purchase the Amazon Harness, you must consider how exactly you intend to use your harness and what dildos you plan to use. The reason why it's important to plan ahead is because the Amazon's permanent O-ring limits you to using dildos of certain shapes and sizes. The permanent O-ring is 1.5 inches in diameter and cannot stretch or expand at all.
Furthermore, the O-ring does not work well with dildos that have bulbous heads or unusual shapes. For example, I had an extremely difficult time fitting the bulbous head of my realistic Adam O2 dildo through the O-ring despite it having a 1.5 inch diameter. And by "extremely difficult", I mean it took a serious amount of force to push the harness past the head and down the shaft until it reached the dildo base. Not only was this a frustrating and relatively time-consuming task, but I was scared the entire time that the amount of force I was applying would somehow damage the harness. My Tantus Tsunami, a 1.5 inch diameter dildo with ridges, also took considerable force to remove from the harness. For further comparison, my 1.5 inch diameter Silk Large dildo, which has no large head or unusual shape, slid through the O-ring with no problems at all.
The O-ring is advertised as fitting 1.5″ inch dildos, but a significant amount of force is needed to push the harness down the shaft.
This inconsistency worries me. Strapping on a dildo that meets the O-ring size specifications should not be this difficult. I should not have to worry that my 1.5 inch diameter realistic dildo—hardly an unusual size or shape—will accidentally damage the harness. I have serious concerns about how well that permanent O-ring and the surrounding leather are going to hold up after a year's worth of brutally forcing dildos through it.
Bottom line: If you want to use a bulbuous or unusually-shaped dildo with the Amazon Harness, then I strongly recommend choosing a size that is well under the 1.5 inch diameter measurement. Not just to preserve the longevity of the harness, but because there is no guarantee that it will fit. People who want to use giant dildos should look for a different harness entirely, preferably one with an interchangeable O-ring.
"It Truly Did Feel Like I Had a Dick"
Despite the problems outlined above, the O-ring does provide an incredible amount of dildo stability. The harness holds the dildo base tightly against the body, so that when you adjust the Velcro belt straps to a snug, comfortable fit, you'll have a very solid grip on the dildo. In my vigorous test sessions, the dildo did not budge or wobble at all. I was able to perform various positions and penetrate at various angles without the dildo being displaced. Overall, I was very impressed with the amount of dildo stability the Amazon provided me.
A surprising, but pleasant result of this setup is that it felt like the dildo was part of my body rather than a toy held together with a system of straps. The dildo was more sensitive to my thrusting and movements than other harnesses, so that getting into position didn't require as much maneuvering and thrusts didn't require as much force. It truly did feel like I had a dick, and it made having sex feel more intimate and natural than I expected. I enjoyed it.
If this is the effect that Tantus set out to achieve with the Amazon, then I can forgive the permanent O-ring issues. Although it's disappointing to be limited to certain dildo shapes and sizes, the intimacy, the dildo stability, and the feeling that my dildo was a natural extension of me was impressive, powerful, and worth the money.
Amazon Harness Recommendations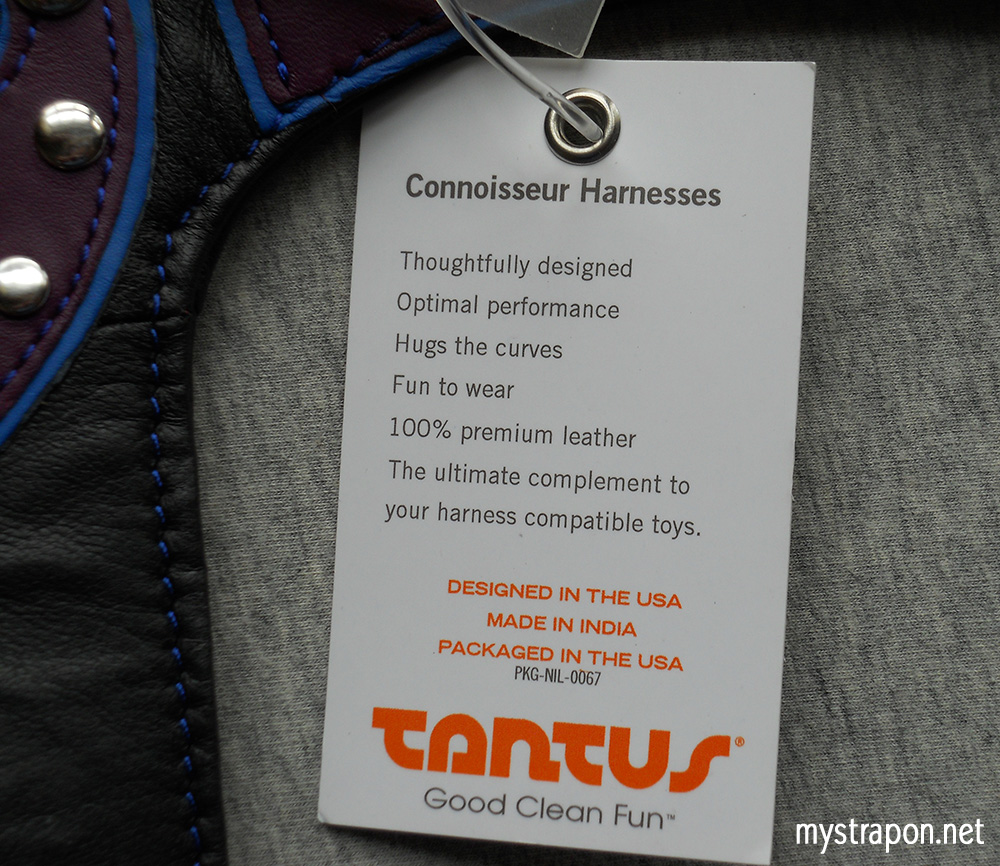 Although I was harsh at times in this review, I enjoyed the Amazon overall. I looked and felt great while wearing it. Being able to the slip the harness on-and-off quickly was a great benefit that led to more impromptu strap-on sex in my life. Despite the permanent O-ring limitations, the harness otherwise performed exceptionally well. The Amazon will continue to see regular rotation in my toy box.
Does it get my official recommendation? It does…in certain circumstances. Here is who I would recommend it for:
RECOMMENDED FOR:
Beginners. This is a very easy, intuitive, and forgiving harness with which to hone your strap-on skills.
People who want a quick and convenient harness for spur-of-the-moment action.
People with unusual body shapes, plus-size users, and anyone who has trouble using belt buckle harnesses. The highly adjustable Velcro belt ensures that the Amazon will fit your body like a glove.
People who want their strap-on harness to make them feel like they have an actual penis.
People who value dildo stability, control, and sensitivity.
WHO SHOULD AVOID THE AMAZON:
People who hate wearing thong underwear. The Amazon is all up in your business in that regard.
Size queens.
People who want to use dildos that have bulbous heads or unusual shapes. Realistic dildos may also be problematic depending on their size and how exaggerated their features are. See The "Uh-Oh" Ring section for more details.
People who are picky about leather quality.
Disclaimer:  I received an Amazon Harness from Tantus in exchange for an honest review. My words, opinions, and experiences about this product are 100 percent my own.