Tantus has released a new line of dildos that are perfect for pegging! The Sport, the Slow Drive, and the Warm-up were just released to the public this week, and they sure look promising! The new dildos offer smooth textures, harness-compatible bases, gentle curves perfectly angled to hit the prostate, and sizes that can accommodate everyone from the complete beginner to the experienced assplay veteran. The dildos are phthalate-free, non-toxic, and up to Tantus's strict safety standards.
Tantus Compact Dildo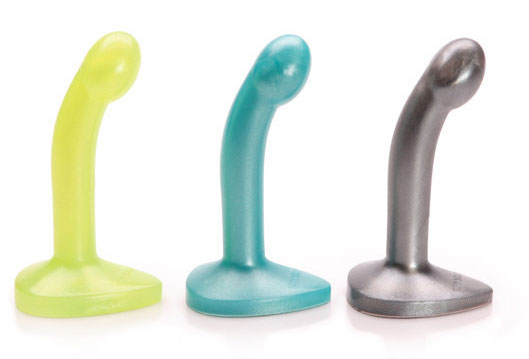 COMPACT SPECS:
Diameter: 1"
Length: 5.25"
An appropriate name for what is clearly intended to be a starter dildo. The Compact's size and shape are just right for a beginner to make that jump from using a butt plug to trying out some thrusting action with a small dildo. This is probably one of the least intimidating anal dildos out there.
Given the small diameter, however, this dildo may not work well with some harnesses. If you use a harness with an interchangeable O-ring, make sure you have an O-ring small enough to properly secure the Compact's one inch diameter (or substitute the O-ring with elastic hair ties as explained in my How to Equip a Giant Dildo Guide). Using an O-ring that is too large won't give you the stability required for steady thrusting action.
Tantus Slow Drive Dildos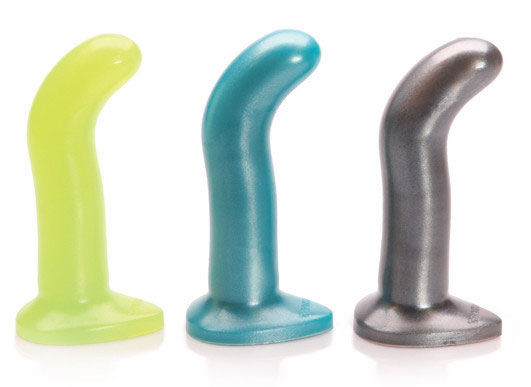 SLOW DRIVE SPECS:
Diameter: 7.25"
Length: 5"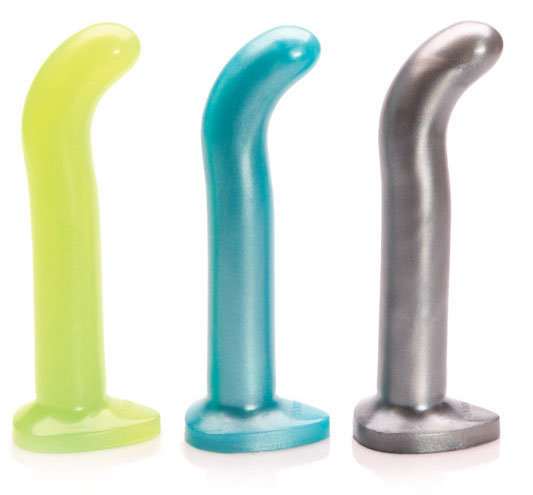 SLOW DRIVE LONG SPECS:
Diameter: 1.25"
Length: 7.5"
Why the name "Slow Drive"? To quote the product description: "Use a slow rocking motion to hit the G-spot or prostate." With that head and angle, this is not a dildo for hard, vigorous thrusting. If that's what you're looking for, then I recommend the similarly-sized Silk Medium or Leisure.
The Slow Drive is available in two different lengths. Both dildos share the same diameter, but the Slow Drive Long is two inches longer in length. The Slow Drive is an appropriate size for pegging beginners who are ready to move on from butt plug experimentation to receiving anal sex. Most harnesses can easily accommodate the Slow Drive.
Fun Fact: The Slow Drive is an updated version of an old dildo Tantus used to sell called the Faerie. Some stores still carry the Faerie in their inventory, but I recommend going with the updated Slow Drive for its wider and more harness-friendly base.
Tantus Sport Dildos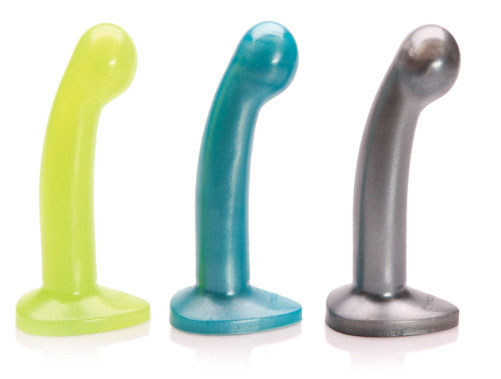 SPORT SPECS:
Diameter: 1.25"
Length: 5.5"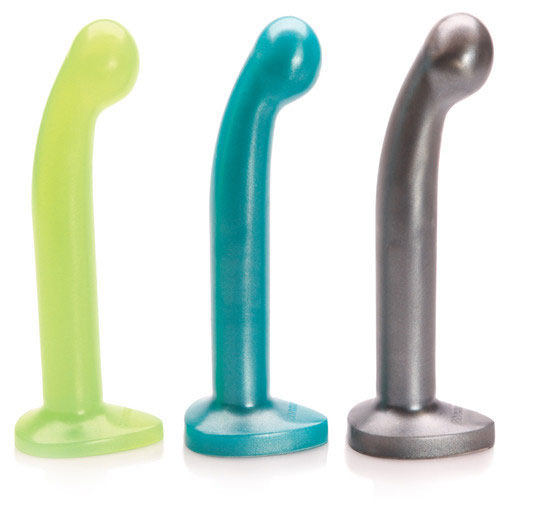 SPORT LONG SPECS:
Diameter: 1.25"
Length: 7.5"
Like the Slow Drive, the Sport is available in two different lengths. The two dildos share the same diameter, but the Sport Long offers an additional two inches length.
What I like about the Sport is that it offers a somewhat bulbous head that doesn't look too difficult or intimidating to insert. The wider and heavier head offers a slightly different type of prostate stimulation compared to dildos with a pointier head (like the Slow Drive). The Sport looks like a friendly toy to experiment with this type of head and prostate stimulation. The Sport can fit into most harnesses.