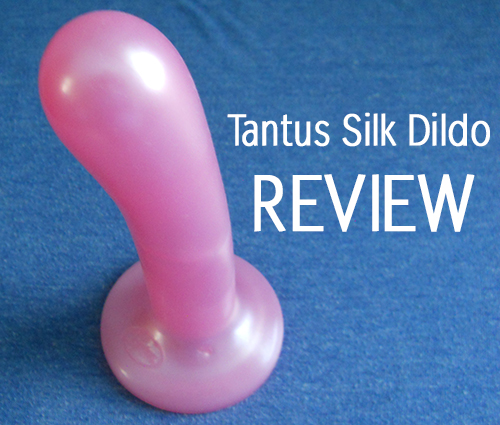 I've been part of this lifestyle for many years, and, as you might imagine, a whole pile of dildos has been left behind in my quest for pegging perfection. Every gimmick, shape, material, and texture is represented in my collection, but my favorite, by far, is the least pretentious of all. Tantus Silk Dildos, with their unassuming packaging, and basic style, are simply on a higher "peg".
Why do I love the Silk so much? There are certain attributes that the perfect pegging dildo must possess, and the Silk has them all. The flared base will fit any harness, with the exception of the small model, which is a hand-held toy only. Its shaft is lightly curved and flexible, but firm enough to provide a satisfying amount of stimulation without slipping. The head is only slightly wider than the base, allowing for easy insertion, and less resistance during vigorous thrusting. That unpleasant "vacuum effect" that plagues some dildos with larger, more bulbous heads isn't a problem here. As a final point, the texture is silky smooth, with no bumps, ridges, or other distractions. The Silk glides just as well as any glass or metal dildo I've ever used. Add a dash of lube and go to town!
Those of you looking for vaginal stimulation need not fret, however, as the Silk has you covered too. In my experience, products designed specifically for G-spot stimulation, with their exaggerated curves or tough material, cause more pain than pleasure. The Silk, on the other hand, can hit just the right spots with the maximum of comfort. It's just as kind to the G-spot as it is to the prostate.
One of the most important factors when choosing a dildo, or any toy, is its construction. Thankfully Tantus makes all of their dildos from the highest quality American-made, hypoallergenic, phthalate-free silicone. The Silk is also completely tasteless, odorless, and will stand up to boiling and bleaching. It will stand up to the dirtiest, longest, most aggressive play you can throw at it.
I will caution, however, that the Silk is something of a lint magnet. It will start to collect dust as soon as you take it out of the package. This is especially problematic when you lay it on a bed or try to dry it with a towel. I like to give it a quick wash before use, dry the base only, and then stand it upright without drying the shaft until it's ready to be used. For those spontaneous, spur of the moment times, try keeping a pack of toy wipes near your lube and condoms so that you can quickly wipe it down before use.
Wondering which size to buy? Read on!
Which Size Silk Dildo Should I Buy For Pegging and Anal Use?
Silk Dildos come in three sizes: Small, Medium, and Large. I've put all three through their paces, and have included some additional thoughts below about each size. Most reader inquiries I receive regarding dildos are concerned with anal play, so I've limited my comments to that topic. If you're wondering which size to use vaginally, I recommend the Medium or Large. Silk Small is too slight to provide much vaginal stimulation.
Small (4.25″ Length x 0.8″ Diameter): An excellent anal trainer for those curious about anal play but not yet ready to take the plunge with a larger model. It's too small to fit most strap-on harnesses, so consider this a handheld toy only.
Medium (5.25″ x 1″): By far the best size to use if you're new to pegging. It provides a pleasurable and satisfying length and girth while not being too intimidating or too difficult to insert. Compatible with all harnesses.
Large (7″ x 1.5″): For those experienced in receiving anal pleasure. If you've never inserted something into your ass before, this model will cause a great deal of discomfort. Start with the Medium. Ass play veterans will find the Large a satisfying upgrade from the Medium without feeling monstrously huge. Compatible with all harnesses.
Available at Tantus and SheVibe.
Wondering what kind of strap-on harness to use with the Silk? Check out my Best Beginner Harnesses Guide and How to Choose a Beginner Strap-on Harness Page for further advice.